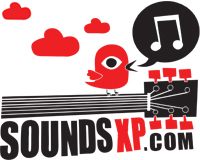 HOME
REVIEWS
albums
singles/downloads
gigs
demos
NEWS
INTERVIEWS
FREE MP3s
STREAMED MUSIC
MUSIC VIDEOS
FORUM
LINKS
ABOUT US
CONTACT US
SEARCH
- RSS Feed
SoundsXP Presents
Next show:

BAD FRIDAY!
Acts tbc

The Windmill, Brixton
Good Friday 2017, 3pm till late



On Our iPod
Latest Forum Posts
Where did everyone go?
- replies (0)
Support a good cause, see some great bands and win stuff!!
- replies (0)
Masonics + Baron Four + Ye Nuns + raffle!
- replies (0)
End of the Road 2016 - hits and misses
- replies (1)
17/9 Walthamstow Festival Indie Alldayer - Free!
- replies (0)
RIP David Bowie
- replies (7)
7/9 LDN Steven James Adams+Papernut Cambridge+Bill Botting
- replies (0)
Sat 6 Aug, London - Shake The Shacklewell IV
- replies (0)
Sounds XP Masters Fantasy league 2016/17
- replies (0)
LDN 20/8 Miracle Legion + Darren Hayman @ Oslo, Hackney
- replies (0)
Courtney Barnett




London, Rough Trade East

Article written by Ged M - Feb 27, 2014

From A Sea of Split Peas to a sea of humanity… given the critical acclaim for her debut record, it's not surprising that people have turned up for this free lunchtime instore gig, but to have queues of people outside who can't get in shows the incredible impact she's had in a relatively short time. Even Courtney herself is shocked, expecting an instore to be like her local Melbourne record shop (capacity 50) but any nerves dissolve into appreciation and then a very obvious enjoyment.

She's part of a trio now and the sound is loud – which really benefits these tunes. 'Avant Gardener' was always choice but played by the threesome it purrs with the same essential rock'n'roll groove as any classic track from Loaded, while her repeated line "I'm not that good at breathing in" comes across like a mantra. 'History Eraser', crammed with wit and observational acuity, is similarly elevated while new track 'Depreston', pencilled in for Record Store Day release, is another future classic; a story about a vanilla suburb of Melbourne, the lyrics sound like a subverted estate agent's catalogue in perfectly scanned lines, making the everyday come to life. It shows off what she does best and confirms for those lucky enough to gain admission why she's one of the great dark horses of 2014.