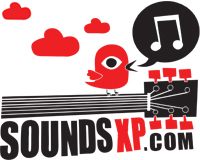 HOME
REVIEWS
albums
singles/downloads
gigs
demos
NEWS
INTERVIEWS
FREE MP3s
STREAMED MUSIC
MUSIC VIDEOS
FORUM
LINKS
ABOUT US
CONTACT US
SEARCH
- RSS Feed
SoundsXP Presents
Next show:

BAD FRIDAY!
Acts tbc

The Windmill, Brixton
Good Friday 2017, 3pm till late



On Our iPod
Latest Forum Posts
Where did everyone go?
- replies (0)
Support a good cause, see some great bands and win stuff!!
- replies (0)
Masonics + Baron Four + Ye Nuns + raffle!
- replies (0)
End of the Road 2016 - hits and misses
- replies (1)
17/9 Walthamstow Festival Indie Alldayer - Free!
- replies (0)
RIP David Bowie
- replies (7)
7/9 LDN Steven James Adams+Papernut Cambridge+Bill Botting
- replies (0)
Sat 6 Aug, London - Shake The Shacklewell IV
- replies (0)
Sounds XP Masters Fantasy league 2016/17
- replies (0)
LDN 20/8 Miracle Legion + Darren Hayman @ Oslo, Hackney
- replies (0)
Fallulah / Pascal Pinon / Delay Trees




The Lexington, London

Article written by Michael H - Apr 10, 2013

Ja Ja Ja is a regular night of Scandinavian music hosted at the Lexington in Kings Cross, London and on this night featured Delay Trees, Pascal Pinon and Fallulah.

Delay Trees began the night with an invigorating set of alt-rock balladeering. Their songs have a languid, drawling quality, unfolding at a sleepy pace. The sound was full of space and yearning rumble, with loud guitar roar and droning synths. This was big music but played to the front rows. Much of their music had a moss gathering rolling momentum, slowly unfurling space jams amidst a wailing emotional tumult. Some songs were perfect melodic miniatures but others stretched out ambitiously, singer Rami Vierula joking about a prog direction which was belied by the sawing arms of the twin guitarists and tight rhythm section. There was something almost Sonic Youth in their exploded ballads; the final song was an unfolding music box of guitar noise and psych motorik.

Pascal Pinon were a study in how to line up a night of contrasts. Entirely different to the previous band, their hushed unassuming and delicate songs had me completely captivated. Their music is deceptively simple with most songs consisting of guitar and keyboard; they spun from these elements music of great charm and warmth. Their melodies strong enough to incorporate faltering starts and sudden stops, the DIY cobbled together nature of the performane only strengthened their appeal. The character and humour present in their material should see them through several albums: highlights of their set included a bass line played through a Walkman and a song written by one of their friends about an obsessive love for Fernando Torres.

Headliner Fallulah seems destined for some kind of stardom. She commanded the stage like a pop general and at one point demanded whiskey from the audience; this was accomplished in an admirably short amount of time. Her music was of the big and sophisticated Feist grown up pop type. Sophisticated songs with catchy hooks and an engaging left-field sensibility. Like Feist, she played music of intelligence with tunes that were difficult to shake.