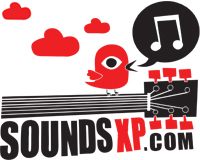 HOME
REVIEWS
albums
singles/downloads
gigs
demos
NEWS
INTERVIEWS
FREE MP3s
STREAMED MUSIC
MUSIC VIDEOS
FORUM
LINKS
ABOUT US
CONTACT US
SEARCH
- RSS Feed
SoundsXP Presents
Next show:

BAD FRIDAY!
Acts tbc

The Windmill, Brixton
Good Friday 2017, 3pm till late



On Our iPod
Latest Forum Posts
Where did everyone go?
- replies (0)
Support a good cause, see some great bands and win stuff!!
- replies (0)
Masonics + Baron Four + Ye Nuns + raffle!
- replies (0)
End of the Road 2016 - hits and misses
- replies (1)
17/9 Walthamstow Festival Indie Alldayer - Free!
- replies (0)
RIP David Bowie
- replies (7)
7/9 LDN Steven James Adams+Papernut Cambridge+Bill Botting
- replies (0)
Sat 6 Aug, London - Shake The Shacklewell IV
- replies (0)
Sounds XP Masters Fantasy league 2016/17
- replies (0)
LDN 20/8 Miracle Legion + Darren Hayman @ Oslo, Hackney
- replies (0)
Father Murphy/Howie Reeve/The Dead Badgers/Air Force Chron




The Audacious Art Experiment, Sheffield

Article written by Matt H - May 31, 2015

Sheffield's a funny place. I'm losing count of the number of fairly well-established acts I've seen gaze out on wide-open patches of floor, even in a fairly small venue. Yet stick on an eclectic bill of left-field curiosity and 50-60 people will trundle along clutching carriers of booze to an old storeroom in the crumbling industrial buildings that lurk in shadow of the Bramall Lane stand.

Credit goes to the Audacious Art Experiment for putting together an intriguing bill. First up were Air Force Chron whose doomladen riffery had people diving into bags for their earplugs, but mainly because the size of the room left nowhere to hide. Their dope-fuelled drones had the odd rough edge, but the hooping rhythm that developed later in the set was especially effective and mushed the brain nicely for what was to follow.

After kicking off with some knackered distorted blues, Dead Badgers set about recreating what you imagine similar Sheffield rooms echoed to in 1981 (at least those where synths hadn't yet been plugged in). Flutes and Smithian hollered vocal tumbled together with a range of art punkish backing to create a suitably ramshackle sound for the room.

Now, even at something like this you might be forgiven for edging towards the door at the prospect of an acoustic bass soloist with experimental leanings. But Howie Reeve is worth staying put for. Not only because technically he knows what he's doing (he's collaborating with Mike Watt soon), but the jazzier digressions are built onto a lovely framework of sometimes intricate backing, using the whole of his instrument to produce something not a million miles from the quieter bits of Spiderland. Add to that some offbeat musings and thoughts declaimed or querulously sung over the top and it's a pleasing personal half-hour of musical self-expression for its own sake.

Finally, upping the discipline and intensity without losing any of the experimental edge, came Father Murphy. We've lauded their brooding, difficult but rewarding sound in recorded form before, and on the basis of that you'd have thought they'd suit a more expansive, more ecclesiastical setting for a live performance. And they probably would. But it turns out they can manage a tighter room with no difficulty too. What was in effect a single piece was filled with distortion and repetition, nailed down by a sparingly effective percussion. It built and subsided in hypnotic waves, a compelling sonic sermon. Some scarpered at the lack of respite. But for those who stayed it was over all too soon, a superb climax to an unashamedly eclectic evening.