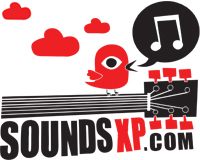 HOME
REVIEWS
albums
singles/downloads
gigs
demos
NEWS
INTERVIEWS
FREE MP3s
STREAMED MUSIC
MUSIC VIDEOS
FORUM
LINKS
ABOUT US
CONTACT US
SEARCH
- RSS Feed
SoundsXP Presents
Next show:

BAD FRIDAY!
Acts tbc

The Windmill, Brixton
Good Friday 2017, 3pm till late



On Our iPod
Latest Forum Posts
Where did everyone go?
- replies (0)
Support a good cause, see some great bands and win stuff!!
- replies (0)
Masonics + Baron Four + Ye Nuns + raffle!
- replies (0)
End of the Road 2016 - hits and misses
- replies (1)
17/9 Walthamstow Festival Indie Alldayer - Free!
- replies (0)
RIP David Bowie
- replies (7)
7/9 LDN Steven James Adams+Papernut Cambridge+Bill Botting
- replies (0)
Sat 6 Aug, London - Shake The Shacklewell IV
- replies (0)
Sounds XP Masters Fantasy league 2016/17
- replies (0)
LDN 20/8 Miracle Legion + Darren Hayman @ Oslo, Hackney
- replies (0)
Fresh and Onlys/ Abjects




Cargo, London

Article written by Ged M - Jun 18, 2013

Maybe it's a Monday, maybe it's the venue (Cargo's low vaults and high priced designer booze seem very dated) but the gig is criminally under-attended…which turns out to be the rest of London's loss as this was one of the finest triumph-in-adversity gigs I've seen. The Fresh and Onlys played like they were showing off to a packed audience rather than one of about one-quarter capacity, typified by bassist Shayde Sartin's look of fierce concentration throughout. Guitarist Sam(?) had other reasons for concentrating, this – according to Tim Cohen - being the fifth gig of his first ever tour, though he filled the boots of Wymond Miles very well. They mostly featured songs from the excellent Long Slow Dance including the towering 'Yes Or No', the Smiths-ian jangle of 'Presence of Mind' and the 80s powerpop-inspired 'Fire Alarm'. 'Euphoria' is played with punk-rock propulsion while earlier single 'Waterfall' has a timeless psych-pop sound. It's one of those rare shows where the songs are all, genuinely, great, and the only reason I can think for the lack of support is that they focus more on the music than any scene, style or genre to which they might be attached, so that people just overlook them. But if you were there, there's no overlooking the quality of the band or the pure rock'n'roll spirit with which they played.

Support comes from London trio Abjects. They start a bit tentatively, sounding quite alt.rock - shades of 80s Homestead Records bands – but really take off in the second half of their set when they up the volume and the fuzz for full-on garage and psych rock brattishness. They might need to sequence their set but I never doubted they'd come good once I'd seen guitarist Noemi's Vox guitar and Mummies t-shirt.