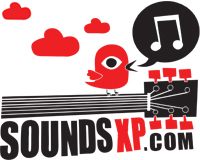 HOME
REVIEWS
albums
singles/downloads
gigs
demos
NEWS
INTERVIEWS
FREE MP3s
STREAMED MUSIC
MUSIC VIDEOS
FORUM
LINKS
ABOUT US
CONTACT US
SEARCH
- RSS Feed
SoundsXP Presents
Next show:

BAD FRIDAY!
Acts tbc

The Windmill, Brixton
Good Friday 2017, 3pm till late



On Our iPod
Latest Forum Posts
Support a good cause, see some great bands and win stuff!!
- replies (0)
Masonics + Baron Four + Ye Nuns + raffle!
- replies (0)
End of the Road 2016 - hits and misses
- replies (1)
17/9 Walthamstow Festival Indie Alldayer - Free!
- replies (0)
RIP David Bowie
- replies (7)
7/9 LDN Steven James Adams+Papernut Cambridge+Bill Botting
- replies (0)
Sat 6 Aug, London - Shake The Shacklewell IV
- replies (0)
Sounds XP Masters Fantasy league 2016/17
- replies (0)
LDN 20/8 Miracle Legion + Darren Hayman @ Oslo, Hackney
- replies (0)
LDN 22/7 Martha + Trust Fund + Neurotic Fiction @ The Dome
- replies (0)
Frightened Rabbit/ Wintersleep/ Washington Irving




London, The Forum

Article written by Sam C - Feb 17, 2013

Frightened Rabbit have just released new record Pedestrian Verses, which has come crashing into the top 10 of the album chart. Unprecedented territory for a band who, in the UK at least, have always been on the underground. They play The Forum tonight and, as they announce in their set, it's the biggest headline show they've ever done in this country and it's only gone and sold out!

Before the main event came two very competent and enjoyable support bands. It can be a chore sitting through poor quality versions of the headline act and hailing from Glasgow with a similarly strong Scottish accent as the main event Washington Irving could have potentially been just that. Vocally, however, is probably where the comparison ends. Washington Irving have more in common with the epic wailing of fellow Scots Broken Records, mixed with an upbeat side reminiscent of Remote Part-era Idlewild. There's a traditional folk song thrown in alongside a somewhat ill-advised feedback-led finale but there's a lot of potential in this band and they could be yet another successful Scottish export.

Hailing from Canada, Wintersleep are a well-established act on the other side of the pond and they've clearly honed their live sound with a hectic tour schedule. They take notes from most of the best exponents of the North American college scene: a little bit of the upbeat indie of The Shins here, a touch of Broken Social Scene there. It's perhaps a little too reminiscent of what's come before and does leave you wondering if we really need another New Pornographers. That aside it's an enjoyable set and you can't always blame a band for not getting to you quickly enough.

Frightened Rabbit take to the stage to rapturous applause and greet us with a new track 'Holy'. This shows the faith they have in the new material and rightly so. A couple of older tracks follow: 'Modern Leper" is a favourite from the excellent The Midnight Organ Fight but both it and 'Old Old Fashioned' seemed a little lacking this evening; some of the intimacy that was so vital to that record is lost in the setting. The new material doesn't suffer from this and tracks like 'Backyard Skulls' and 'The Oil Slick' sound incredibly vibrant and lively despite Hutchinson's dry introduction that "this song is also about death". It's left to 'My Backwards Walk' to bring the crowd to its feet, a frankly stunning rendition of the track that best ties the beauty of their early days with the ferocity of their current sound. The track ends with an incredible wall of noise matched with a strobe light show that U2 would be proud of. As stunning as it is, you do wonder if you'll ever hear the beauty of a track like 'Poke' again, then the band all march off and Scott plays 'Poke'. It's an incredibly intimate moment in a huge venue and one that the crowd adore; it's greeted by a standing ovation and the battle is won. They play out the rest of the set triumphantly, the highlights are numerous, and as the band march off leaving the crowd to stay and sing out the terrace-chanting-gone-indie-chorus of 'The Scream' you can't help but be delighted that a band this good are finally getting the recognition they deserve.