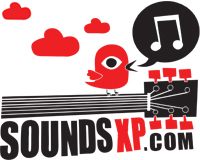 HOME
REVIEWS
albums
singles/downloads
gigs
demos
NEWS
INTERVIEWS
FREE MP3s
STREAMED MUSIC
MUSIC VIDEOS
FORUM
LINKS
ABOUT US
CONTACT US
SEARCH
- RSS Feed
SoundsXP Presents
Next show:
BAD FRIDAY!
Peluché,
Dead Coast,
Les Sueques,
Calva Louise,
Flights of Helios,
Videocean,
Dirty Blondes
+ SoundsXP DJs
The Windmill, Brixton
Good Friday, 14th April 2017
3pm till late
Buy tickets
here
On Our iPod
Latest Forum Posts
Where did everyone go?
- replies (4)
Bands visiting the UK
- replies (2)
Support a good cause, see some great bands and win stuff!!
- replies (0)
Masonics + Baron Four + Ye Nuns + raffle!
- replies (0)
End of the Road 2016 - hits and misses
- replies (1)
17/9 Walthamstow Festival Indie Alldayer - Free!
- replies (0)
RIP David Bowie
- replies (7)
7/9 LDN Steven James Adams+Papernut Cambridge+Bill Botting
- replies (0)
Sat 6 Aug, London - Shake The Shacklewell IV
- replies (0)
Sounds XP Masters Fantasy league 2016/17
- replies (0)
Katzenjammer




London, XOYO

Article written by Paul M - May 24, 2012

The first hot week of the year coincides with my first visit to the XOYO venue. Practically next to one of the many exits from Old Street tube, it holds around 800 over its two floors, so I'd imagine there must be 500 in the basement venue part, including, bless 'im, a dapper little fella offering after shave in the gents. Now these bog botherers have to pay to provide such a service, so I hope his takings were better than the poor bloke that I once stumbled across while emptying my bladder at a gig in the now demolished Metro. There were only thirteen people in attendance then, of which eight were dudes. I'm no mathematician but his only hope was that one of them had a urinary tract infection and a penchant for being splashed with lots of fake Brut.

Still, back to tonight. Before the headliners appear I endure a performance by Jay James Picton and his guitarist sidekick (a dead ringer for Sideshow Bob from the Simpsons). Picton is Welsh apparently though his chirpy 'tween set banter is pure mockney geezer. He has a decent voice but he delivers jazzy soul in that irritating staccato jabbing manner which probably rates alongside cheese rolling and basketball as things I can live without. But he's confident, by jove, and while most would think twice before attempting Marvin Gaye's What's Going On?, Mr Picton has the mini babybels to attempt it. Personally, I'd rather slamdunk a gorgonzola before catching him live again though.

By contrast, the four young women from Oslo, who perform under the banner of Katzenjammer, are top, top entertainment. Their sophomore album is fine but some dishes are really best served before your eyes, fresh and piping hot, and this quartet are as far from the musical equivalent of tinned gazpacho as imaginable. Coming to the end of their brief UK tour, they are so bubbly and vivacious, they look like they'd happily play to an empty room if that was their lot. Instead they have a packed audience of attentive punters (some, it must be said, perhaps more attentive than their partners would be comfortable with). While, they were born with their good looks, their musical skills were honed at the Oslo University of Pop, and presumably they gained some of their confidence there too. Not many out of the thirteen different instruments utilised tonight aren't used by two or more band members but doubly impressive is the fact that all four are also extremely competent singers.

The musical direction swings with the frequent change of vocalist, thereby creating a somewhat eclectic collection of songs. The most instant pop numbers, such as Rock - Paper – Scissors and I Will Dance see Solveig lead but Anne Marit can conjure up a sea shanty or some wistful folk (the lovely Lady Marlene), Turid can take us on an accordion led Parisian walkway and Marianne can shake a booty to ragtime blues or cause some mayhem in the Balkans. But the appeal is not limited only to the variety of the music, it's the cheeky laugh out loud comments that nail it, such as when Solveig impersonates Picton's accent ("lavverly day, innit") or Marianne teases us over our efforts during an audience participation section... well, you had to be there. No really, you should have been there and hopefully the girls will be wowing us again during the festival season, when some of you can.