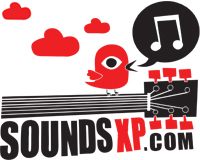 HOME
REVIEWS
albums
singles/downloads
gigs
demos
NEWS
INTERVIEWS
FREE MP3s
STREAMED MUSIC
MUSIC VIDEOS
FORUM
LINKS
ABOUT US
CONTACT US
SEARCH
- RSS Feed
SoundsXP Presents
Next show:

BAD FRIDAY!
Acts tbc

The Windmill, Brixton
Good Friday 2017, 3pm till late



On Our iPod
Latest Forum Posts
Where did everyone go?
- replies (0)
Support a good cause, see some great bands and win stuff!!
- replies (0)
Masonics + Baron Four + Ye Nuns + raffle!
- replies (0)
End of the Road 2016 - hits and misses
- replies (1)
17/9 Walthamstow Festival Indie Alldayer - Free!
- replies (0)
RIP David Bowie
- replies (7)
7/9 LDN Steven James Adams+Papernut Cambridge+Bill Botting
- replies (0)
Sat 6 Aug, London - Shake The Shacklewell IV
- replies (0)
Sounds XP Masters Fantasy league 2016/17
- replies (0)
LDN 20/8 Miracle Legion + Darren Hayman @ Oslo, Hackney
- replies (0)
Knickers/ The Feathers




London, Wilmington Arms

Article written by Ged M - May 25, 2012

Full of retro-charm, Knickers are all that the Loves used to be and maybe a bit more. They're still powered by the engine room of the Loves (Dan and Jonny) and are marshalled by bubblegum-pop-wunderkind Simon but upfront they now sport a sparky new keyboard-basher and an exotically coiffured and charismatic French frontwoman, Sarah Eisenfitz, to draw the attention. The Svengali role suits Simon, allowing him to focus on making the songs as blisteringly melody-soaked and hook-ladenly pop as he can, drawing on his love of the Kinks, the Velvets and a host of obscure 60s garage bands but full of the sort of musical tricks and lyrical twists that keeps this away from pastiche. 'My Baby's Just A Baby' is clothed in a gorgeous girl group sound but is wearing psychotic undergarments when you look closely while the version of Jacques Dutronc's 'Les Cactus' is pure va-va-voom Gallic garage goodness, with every "oy" squirted out like a Jane Birkin orgasm. If they can get more stability than the Loves ever managed, Knickers could turn out to be a very satisfying and successful indiepop act.

Bands don't make it easy for themselves. A search on The Feathers throws up bands in the psych-folk, Celtic-rock and alt.rock genres, plus the Corrs and a million pub names. Then I discover they were once the band behind Georgina Baillie's Poussez Posse, who were managed by Adam Ant's management team. Formed in summer 2011, The Feathers are a pretty spectacular mash-up of the Antman himself, the Runaways and Jesse Hector of the Hammersmith Gorillas (and hats off to the singer who's wearing a haircut that would have got you a severe kicking in 1973 and possibly still would in 2012). They're great fun but sharp as well; they might be too arch for some but their glam-metal moves and distorted rock riffs, plus charming banter and wincingly tight trousers, makes for a brilliantly entertaining evening. These aren't featherweights.