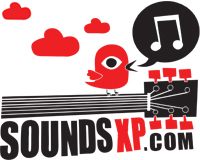 HOME
REVIEWS
albums
singles/downloads
gigs
demos
NEWS
INTERVIEWS
FREE MP3s
STREAMED MUSIC
MUSIC VIDEOS
FORUM
LINKS
ABOUT US
CONTACT US
SEARCH
- RSS Feed
SoundsXP Presents
Next show:

BAD FRIDAY!
Acts tbc

The Windmill, Brixton
Good Friday 2017, 3pm till late



On Our iPod
Latest Forum Posts
Where did everyone go?
- replies (0)
Support a good cause, see some great bands and win stuff!!
- replies (0)
Masonics + Baron Four + Ye Nuns + raffle!
- replies (0)
End of the Road 2016 - hits and misses
- replies (1)
17/9 Walthamstow Festival Indie Alldayer - Free!
- replies (0)
RIP David Bowie
- replies (7)
7/9 LDN Steven James Adams+Papernut Cambridge+Bill Botting
- replies (0)
Sat 6 Aug, London - Shake The Shacklewell IV
- replies (0)
Sounds XP Masters Fantasy league 2016/17
- replies (0)
LDN 20/8 Miracle Legion + Darren Hayman @ Oslo, Hackney
- replies (0)
La Luz/ The Near Death Experience/ Abjects




London, Windmill

Article written by Ged M - Apr 22, 2014

These are the line ups that promoters and punters pray for: bands different but complementary, and all good. These are the nights that you can't beat live music.

As soon as you see Noemi's Vox guitar, you know that Abjects' music is going to live up to expectations. This international threesome (Noemi's from Spain, bassist Yuki from Japan and drummer Alice from Italy) have been smoulderingly good for the last couple of years and now they're on fire. They play psych-pop that haunts your memories after they've finished, spicing it up with some grungy garage-rock when it needs it. It's all coming to the point where we're desperate for some physical product again, one cassette (on Pins' label) not satisfying our craving any more.

Having seen The Near Death Experience once, the novelty has gone but that's been replaced by awe at the singers' great r'n'b voice, that hollers, testifies and pumps out the pain like ol' man Otis while his compadres kick out the jams with their fierce soul-punk attack. The Dirtbombs' released Ultraglide In Black as their tribute to funk and soul; TNDE don't seem to have released anything yet but let their live set stand for their love of garage, punk and soul. When the singer launches into an acapella version of the Four Tops' 'The Same Old Song' to fill time during a tune-up, it's breathtaking, and they have similar moments of awe during their self-penned tunes too. One of the best London live experiences at the moment - go see for yourself.

Careful if you ever google La Luz, as one of the first hits is the La Luz Care Home in Surrey and the last thing you'd associate the four women from Seattle with is piss-soaked old people watching endless reruns of Flog It and asking for the bedpan. This is a band that organises a mid-set Soul Train Dance Line in the Windmill, for god's sake! The gig is promoting debut album It's Alive, which was available six months ago on import (when we reviewed it) but is only now being officially released in the UK. Shana Cleveland has educated ears (as a glimpse at the subjects of her artwork would suggest) and the music of her band is a consummate collation of influences from garage-rock, 60s girl groups and surf-rock, but with a West Coast sassyness that you hear in Bay Area bands. They feature album highlights like the puppydog-eager 'Sure As Spring' but also add single tracks like the twangtastic 'TV Dreams'. The show's over far too soon but thankfully they're coming back in the summer, hopefully before these sweet reverby tones have faded from our ears.