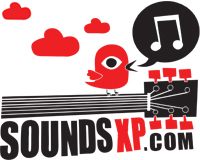 HOME
REVIEWS
albums
singles/downloads
gigs
demos
NEWS
INTERVIEWS
FREE MP3s
STREAMED MUSIC
MUSIC VIDEOS
FORUM
LINKS
ABOUT US
CONTACT US
SEARCH
- RSS Feed
SoundsXP Presents
Next show:

BAD FRIDAY!
Acts tbc

The Windmill, Brixton
Good Friday 2017, 3pm till late



On Our iPod
Latest Forum Posts
Where did everyone go?
- replies (0)
Support a good cause, see some great bands and win stuff!!
- replies (0)
Masonics + Baron Four + Ye Nuns + raffle!
- replies (0)
End of the Road 2016 - hits and misses
- replies (1)
17/9 Walthamstow Festival Indie Alldayer - Free!
- replies (0)
RIP David Bowie
- replies (7)
7/9 LDN Steven James Adams+Papernut Cambridge+Bill Botting
- replies (0)
Sat 6 Aug, London - Shake The Shacklewell IV
- replies (0)
Sounds XP Masters Fantasy league 2016/17
- replies (0)
LDN 20/8 Miracle Legion + Darren Hayman @ Oslo, Hackney
- replies (0)
Las Kellies/ Skinny Girl Diet/ Keebo




Brixton, Windmill

Article written by Ged M - Jul 30, 2012

Gender in music shouldn't be an issue and it isn't tonight – I even wonder about mentioning it at all. The quality is generally so good that you come away thinking "I've seen three great bands" rather than reflecting on the novelty of all girl line-ups.

First on are Keebo; it takes a few songs to recalibrate but I then really start to enjoy what they're doing. There's an element of shimmery 4AD dreampop in the music but there's also a Slits-style primal percussion which stops it being too fey and ethereal. They're first on the bill but really stick in the memory.

Skinny Girl Diet are a trio of young women whose instruments are almost bigger than they are (especially the bass player's Metallic-looking axe) but they're loud, grungy and big-lunged, with some fine horror-movie screaming from said bass player. This is lo-fi punk and Riot Grrl-inspired, reminiscent of Babes in Toyland, with 'Eyes That Paralyse' outstanding. One of their mothers - a really striking woman with great hair, Mexican-motif tattoos and jewellery - is in the audience but ought to be on the stage with them as an original Riot Grrl.

Las Kellies are jaw-droppingly amazing. They're a trio from Buenos Aires who work themselves into a sonic fever with their music, comprising equal parts tight post-punk, sensual Argentinian cumbia and primitive rock'n'roll. It's not just singer Ceci's hat that occasionally reminds you of Patti Smith but there are many other influences in the mix, including Devo, Liliput, Bush Tetras and of course ESG. Their fabulous funk-punk cover of ESG's 'Erase You' and a smouldering 'Beat On the Brat' are just part of their groove-heavy set that flies by in a dynamic blur of slinky rhythms, pounding percussion and the odd cowbell.