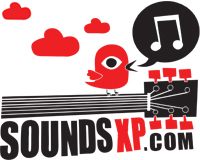 HOME
REVIEWS
albums
singles/downloads
gigs
demos
NEWS
INTERVIEWS
FREE MP3s
STREAMED MUSIC
MUSIC VIDEOS
FORUM
LINKS
ABOUT US
CONTACT US
SEARCH
- RSS Feed
SoundsXP Presents
Next show:

BAD FRIDAY!
Acts tbc

The Windmill, Brixton
Good Friday 2017, 3pm till late



On Our iPod
Latest Forum Posts
Where did everyone go?
- replies (0)
Support a good cause, see some great bands and win stuff!!
- replies (0)
Masonics + Baron Four + Ye Nuns + raffle!
- replies (0)
End of the Road 2016 - hits and misses
- replies (1)
17/9 Walthamstow Festival Indie Alldayer - Free!
- replies (0)
RIP David Bowie
- replies (7)
7/9 LDN Steven James Adams+Papernut Cambridge+Bill Botting
- replies (0)
Sat 6 Aug, London - Shake The Shacklewell IV
- replies (0)
Sounds XP Masters Fantasy league 2016/17
- replies (0)
LDN 20/8 Miracle Legion + Darren Hayman @ Oslo, Hackney
- replies (0)
Magic Kids/ Allo Darlin'/ Tigercats




London, Barfly

Article written by Ged M - Oct 11, 2010

Magic Kids really are just kids; Messrs Gilette and Wilkinson-Sword aren't going to be making much out of them for some time. There's a certain gaucheness that is occasionally appealing (the way they play up the 'Grease'-inspired crooning of closing song 'Cry With Me, Baby') but their energetic bubblegum surf-pop and on-stage harmonising makes you aware how in thrall they are to the Beach Boys. They have some great songs – 'Supaball', 'Good To Me' – but the venue's crappy sound balance does them no favours. However, the sound is fine for 'Hey Boy', which brings everything together in one perfect package: the harmonies, the Beach Boys arrangements, the sweeping violin and the string-emulating keyboards. Strangely, it's even better live, when you can see how attuned they are to each other and how those disparate elements come together for that transcendent three minutes of popular music. The rest of the show was fine, but that song justified the whole evening.

Because of the curfew (the gig ends on the stroke of 10 so that the management can fit in their second gig of the night, ker-chinng!), Allo Darlin' play a shorter set so they seem to focus on their punkier pop songs, with Ms Morris and her ukulele bouncing around the stage like a Tigger who's been given a red pepper enema. The benevolent ghost of the Go Betweens hangs over their very smart indiepop, as on 'Let's Go Swimming', when Elizabeth's evocative lyrics are full of putdowns of the Shoreditch twat-world. It's joyful and unrestrained indie that's just not long enough tonight.

Tigercats are the product of mating Hexicon with Esiotrot; the resultant sound is a bastardised Bo Diddley beat chained to an indiepop set up (part Orange Juice, part Hefner). They have songs about "Konny Huck" and Stevie Nicks, which should just sound sweet but have an angry intensity and buzzing loudness that makes them not only catchy but a lot more interesting.