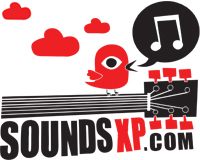 HOME
REVIEWS
albums
singles/downloads
gigs
demos
NEWS
INTERVIEWS
FREE MP3s
STREAMED MUSIC
MUSIC VIDEOS
FORUM
LINKS
ABOUT US
CONTACT US
SEARCH
- RSS Feed
SoundsXP Presents
Next show:
BAD FRIDAY!
Peluché,
Dead Coast,
Les Sueques,
Calva Louise,
Flights of Helios,
Videocean,
Dirty Blondes
+ SoundsXP DJs
The Windmill, Brixton
Good Friday, 14th April 2017
3pm till late
Buy tickets
here
On Our iPod
Latest Forum Posts
Where did everyone go?
- replies (4)
Bands visiting the UK
- replies (2)
Support a good cause, see some great bands and win stuff!!
- replies (0)
Masonics + Baron Four + Ye Nuns + raffle!
- replies (0)
End of the Road 2016 - hits and misses
- replies (1)
17/9 Walthamstow Festival Indie Alldayer - Free!
- replies (0)
RIP David Bowie
- replies (7)
7/9 LDN Steven James Adams+Papernut Cambridge+Bill Botting
- replies (0)
Sat 6 Aug, London - Shake The Shacklewell IV
- replies (0)
Sounds XP Masters Fantasy league 2016/17
- replies (0)
The Pains of Being Pure at Heart




Sticky Mike's Frog Bar, Brighton

Article written by Alex S - Aug 25, 2014

Playing Sticky Mike's felt like a backward step for the Pains of Being Pure at Heart. Their last triumphant visit to Brighton in 2010 was a sold out gig at the iconic Concorde2, just weeks after headlining Indietracks. But that was when they were 'the next big-thing'. Awkwardly shaped, with pillars obscuring the view of anyone who isn't standing at the front, Sticky Mike's low ceiling and flat stage means those unfortunate enough to be four rows back aren't likely to see very much. And being significantly smaller than the Concorde, it is essential to arrive early.

And so seeing the support band felt odd in itself, but odder still were the band themselves. From the far flung reaches of the bar Ablebody felt for all the world like a Pains tribute act, such were their striking resemblance in look and sound to the main players. As it turned out, they were the Pains, minus singer Kip Berman. They delivered bright, breezy, sugar-laden pop that set the tone nicely for the main course. As I jostled for position in that elusive front row ahead of the pillars, it was interesting to note that half the audience were women. I guess Kip has that winning combination of appearing both handsome yet vulnerable, but there must also be something in the Pains blend of wistful and melancholy pop that attracts a broader audience than the usual cut and paste indie crowd.

Kip began with a low key solo, Art Smock, before sinking his teeth into the luscious Until the Sun Explodes, both from new album Days of Abandon, which on this showing has all of the hallmarks of being their finest yet. Joined on stage by Brighton's own Jessica Weiss of Fear of Men, the familiar blizzard of keyboard, Righteous Brothers' guitar and ethereal harmony from the wonderful Berman drenched a receptive Sticky Mike's with its full force. At times the sound system didn't have the legs to cope with the subtle and nuanced layers of the music. This was less important for the mini first-album medley of When Saturday and Young Adult Friction, and it rather complimented the sonic feedback in Belong, but I'm not sure songs such as Heart in your Heartbreak or the sensual Kelly, sung by Jen Goma, benefitted much.

Charming throughout, the Pains fused past and future into a seamless whole, whilst it's easy to be seduced by their all pervading sense of yearning. All too quickly though, Berman was paying tribute to the hugely influential Terry Bickers of House of Love, who he '…recently had the honour of playing with', before inviting us to the merchandise stand and introducing the final songs. Thankfully there was one last chance for the crowd to roar their approval by some thunderous chanting of 'we will never die' during a rousing Pains of Being Pure at Heart. My final image of Berman was glancing back at him posing for selfies with some eager punters. What a nice boy. Reflecting on the evening, the bands growing experience is shining through. It felt as if The Pains have thrown off the shackles of being 'the next big-thing', and are continuing to produce music of freshness and purpose.