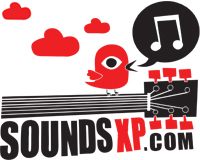 HOME
REVIEWS
albums
singles/downloads
gigs
demos
NEWS
INTERVIEWS
FREE MP3s
STREAMED MUSIC
MUSIC VIDEOS
FORUM
LINKS
ABOUT US
CONTACT US
SEARCH
- RSS Feed
SoundsXP Presents
Next show:

BAD FRIDAY!
Acts tbc

The Windmill, Brixton
Good Friday 2017, 3pm till late



On Our iPod
Latest Forum Posts
Where did everyone go?
- replies (0)
Support a good cause, see some great bands and win stuff!!
- replies (0)
Masonics + Baron Four + Ye Nuns + raffle!
- replies (0)
End of the Road 2016 - hits and misses
- replies (1)
17/9 Walthamstow Festival Indie Alldayer - Free!
- replies (0)
RIP David Bowie
- replies (7)
7/9 LDN Steven James Adams+Papernut Cambridge+Bill Botting
- replies (0)
Sat 6 Aug, London - Shake The Shacklewell IV
- replies (0)
Sounds XP Masters Fantasy league 2016/17
- replies (0)
LDN 20/8 Miracle Legion + Darren Hayman @ Oslo, Hackney
- replies (0)
The Eccentronic Research Council feat. Maxine Peake / The Penny Licks




Festival of the Mind, Sheffield

Article written by Matt H - Sep 30, 2012

The plus side of the space left in Sheffield's centre by the migration of most shops to Meadowhall is that it has forced the city to work harder to get people in. Over the last couple of years this has meant a growth in themed events and festivals which means that it's actually easier to see the slightly offbeat music and arts events than the mainstream stuff. So it is that this evening takes place in a wood and glass spiegeltent, erected as part of a Festival of the Mind, its Victorian interior filled with now-vintage electronic noise-making equipment.

First up to twiddle are locals The Penny Licks. If my eyes aren't deceiving me, it's the latest combo for erm, Claire out of several Soundsxp-lauded Sheffield outfits (Navvy, Slow Down Tallahassee, Bon Bon Club…). More downbeat than some of her previous collaborations the wholly electronic tunes still have a strong pop sensibility set to see them bothering us happily again.

I want to call the Eccentronic Research Council folktronica. But that would make you think (however unfairly) of winsome strummy types making themselves marginally less dull by adding a few low-key blips and wibbles. The only outward signs of folkiness in the Eccentronic Research Council are a couple of floaty white dresses and a tambourine (the gents on the other hand look not entirely unlike they got lost in an old synth warehouse sometime around 1989 and have only just emerged blinking into the world) in amongst the banks of Korg, laptop and Theremin. Yet the psychedelic radiophonic racket they build (with nary a string in sight), wedded to strobing images, short films and Maxine Peake's shock-haired hectoring surely does folk music's job of painting modern concerns through reference to the past as well, if not better, than a thousand carefully picked guitar lines. The overall 1612 Underture as it comes through the various media is a state of the (north-western) nation polemic viewed through the lens of the Pendle witches. If all that makes it sound a bit po-faced, it's far from it. Endearingly ragged at the edges, Maxine Peake in particular alternates between performing and just having a whale of a time being onstage with a band, sometimes being let loose on the keyboards and Theremin (though they do get a 'proper' singer in for one song). It's this enthusiasm and sense of novelty that pervades, averting any danger of the whole thing disappearing up its own backside and leaving everyone wandering off with a broad grin.

Oh, and it's not a barm-cake or a bread-cake. It's a cob.