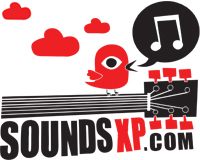 HOME
REVIEWS
albums
singles/downloads
gigs
demos
NEWS
INTERVIEWS
FREE MP3s
STREAMED MUSIC
MUSIC VIDEOS
FORUM
LINKS
ABOUT US
CONTACT US
SEARCH
- RSS Feed
SoundsXP Presents
Next show:

BAD FRIDAY!
Acts tbc

The Windmill, Brixton
Good Friday 2017, 3pm till late



On Our iPod
Latest Forum Posts
Where did everyone go?
- replies (0)
Support a good cause, see some great bands and win stuff!!
- replies (0)
Masonics + Baron Four + Ye Nuns + raffle!
- replies (0)
End of the Road 2016 - hits and misses
- replies (1)
17/9 Walthamstow Festival Indie Alldayer - Free!
- replies (0)
RIP David Bowie
- replies (7)
7/9 LDN Steven James Adams+Papernut Cambridge+Bill Botting
- replies (0)
Sat 6 Aug, London - Shake The Shacklewell IV
- replies (0)
Sounds XP Masters Fantasy league 2016/17
- replies (0)
LDN 20/8 Miracle Legion + Darren Hayman @ Oslo, Hackney
- replies (0)
The Sea and Cake / Gentlemen




Scala, King's Cross, London

Article written by Michael H - Mar 12, 2013

After the fun 70s psychedelic bluesy swamp rock of Gentlemen, a band that looked and sounded like they had arrived straight at the venue from cryogenic defrosting, came the brilliant Sea and Cake.

Resplendent in matching turn-ups they raced through a set of immense charm and driving rhythmic prowess. The two guitarists, Sam Prekop and Archer Prewitt spun delicate and beautifully complex melodies; ably powered by one of the best rhythm sections in the business, Tortoise's John McEntire and Eric Claridge. The halting twists, turns and sudden bending contours were jazz-like but with a relentless emphasis on delivering bouncing intelligent pop songs. The songs which on record can seem sedate and breezy are torn through live at high pace and volume but never lose their subtlety and graceful sharking directness.

The Sea and Cake are a live act so good that a comment, made by a friend: "this one sounds a bit like The Police" did nothing to spoil them. I think this speaks for itself.