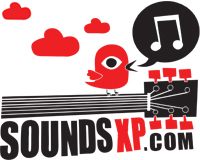 HOME
REVIEWS
albums
singles/downloads
gigs
demos
NEWS
INTERVIEWS
FREE MP3s
STREAMED MUSIC
MUSIC VIDEOS
FORUM
LINKS
ABOUT US
CONTACT US
SEARCH
- RSS Feed
SoundsXP Presents
Next show:

BAD FRIDAY!
Acts tbc

The Windmill, Brixton
Good Friday 2017, 3pm till late



On Our iPod
Latest Forum Posts
Where did everyone go?
- replies (0)
Support a good cause, see some great bands and win stuff!!
- replies (0)
Masonics + Baron Four + Ye Nuns + raffle!
- replies (0)
End of the Road 2016 - hits and misses
- replies (1)
17/9 Walthamstow Festival Indie Alldayer - Free!
- replies (0)
RIP David Bowie
- replies (7)
7/9 LDN Steven James Adams+Papernut Cambridge+Bill Botting
- replies (0)
Sat 6 Aug, London - Shake The Shacklewell IV
- replies (0)
Sounds XP Masters Fantasy league 2016/17
- replies (0)
LDN 20/8 Miracle Legion + Darren Hayman @ Oslo, Hackney
- replies (0)
Thee Oh Sees/ Sauna Youth




London, Scala

Article written by Ged M - May 23, 2013

Whenever I see Thee Oh Sees I wonder if all the equipment is live and the musicians are actually being electrocuted; that seems the obvious explanation for Petey Dammit's herky-jerky motion, as if he's in direct communion with the London Electricity Board, while Jon Dwyer's frantic head bobbing makes you hope he has a masseuse in the dressing room to relocate his thrown-out vertebra. Most energetic of all is drummer Mike Shoun; not only does he lay down that pulverising motorik beat for the songs, most of which are showcasing the excellent Floating Coffin album, but he has time for a supercharged drum solo a quarter of a way through the set. The guy is Duracell.

It's Brigid's birthday so there's a party atmosphere tonight. It's not quite as good as the Luminaire in 2009 when rivers of sweat were running down the walls but it's not far off. Their wikipedia page categorises Thee Oh Sees in 7 different genres and there's a bit of everything tonight, from garage-rock to krautrock and psychedelic pop to art-punk. The new album sounds splendid, from the garage-pop 'I Come From the Mountain' and the agressive 'Toe Cutter/Thumb Buster' to the sweetly, smoothly psychedelic 'Minotaur'. Plus there are two goes at 'I Was Denied' after a sound hiccup, giving even longer for the madcap moshing and beer-flinging. The only downside of the whole show is the showboating of the morbidly obese manager, who flings most of the band's rider and, strangely their teabags and icecubes, into the crowd. They'll be back in a year, claims Dwyer at the end, and with the band as prolific as they are, you don't doubt it. Lose the fat scene-stealer and we'll all be there.

Support comes from the phenomenal Sauna Youth, whose energetic pop-punk deserves a headline slot of its own, not least for the bassist whose hair/'tache combo carries off the 70s pornstar look perfectly.