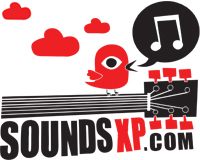 HOME
REVIEWS
albums
singles/downloads
gigs
demos
NEWS
INTERVIEWS
FREE MP3s
STREAMED MUSIC
MUSIC VIDEOS
FORUM
LINKS
ABOUT US
CONTACT US
SEARCH
- RSS Feed
SoundsXP Presents
Next show:

BAD FRIDAY!
Acts tbc

The Windmill, Brixton
Good Friday 2017, 3pm till late



On Our iPod
Latest Forum Posts
Where did everyone go?
- replies (0)
Support a good cause, see some great bands and win stuff!!
- replies (0)
Masonics + Baron Four + Ye Nuns + raffle!
- replies (0)
End of the Road 2016 - hits and misses
- replies (1)
17/9 Walthamstow Festival Indie Alldayer - Free!
- replies (0)
RIP David Bowie
- replies (7)
7/9 LDN Steven James Adams+Papernut Cambridge+Bill Botting
- replies (0)
Sat 6 Aug, London - Shake The Shacklewell IV
- replies (0)
Sounds XP Masters Fantasy league 2016/17
- replies (0)
LDN 20/8 Miracle Legion + Darren Hayman @ Oslo, Hackney
- replies (0)
Yorkston/Thorne/Khan / Laura Moody




Yellow Arch Studios, Sheffield

Article written by Matt H - Feb 22, 2016

"You probably thought 'Oh a lady with a cello, this'll be nice' didn't you?" teases Laura Moody part way through her support set this evening. Not that she'd let any illusions linger for long – declaring Sheffield audiences to be "hardcore" before launching into one of her more off-kilter offerings. Because she gets everything she can out of voice and cello, whacking every part of it, and sometimes herself, to construct songs - much as others would do with a loop pedal and box of effects. Fortunately the songs themselves transcend her quirky approach, much as her voice is strong and clear when she wants it to be – eschewing the sort 'little witch' pixiness that can substitute for real difference. Yes there's some PJ Harvey-demosesque creaking and some pure sound effect vocalising, but it always serves to enhance a strong song, not detract from it. What results might not quite be nice, but it is very lovely and thoroughly entrancing.

Which on the basis of their recent LP is also what I'd been expecting from Yorkston/Thorne/Khan – and they didn't disappoint. A lot of the record (which is a wonderful thing in itself) plays on the fit between the more studied, repetitively building elements of James Yorkston's motoric folk and the drones and textures of Suhail Yusuf Khan's sarangi. On stage, it doesn't need Yorkston telling us that it's "like heaven" for them as musicians to appreciate just how comfortable they feel playing with each other. The swap between western and eastern sounds as a lead makes even more sense when the musicians are on stage passing to each other. And the skill and impact of Khan's voice really shines through live too. During Khan's more gymnastic vocal efforts on Sufi Song, even bent over his guitar with his cap-brim over his face Yorkston can't hide the sheer delight he's feeling at what's going on to his left.

But it's not all rhythm and instrumental workouts. A bit of Ivor Cutler is always welcome, and the version of Little Black Buzzer (with Laura Moody helping out) is full of the warmth and joy that Ivor's bum wasn't. And there's just some straightforward mournful beauty too. Not just on Yorkston's Broken Wave, which breaks the heart every time you hear it – but on Jon Thorne's Everything Sacred, which gives the record its name and allows him to step forward from supporting the other two to bare his own heart. Side projects can often be interesting, but this is very much the sum of its parts and totally captivating.