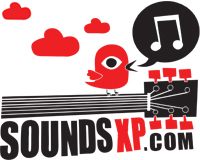 HOME
REVIEWS
albums
singles/downloads
gigs
demos
NEWS
INTERVIEWS
FREE MP3s
STREAMED MUSIC
MUSIC VIDEOS
FORUM
LINKS
ABOUT US
CONTACT US
SEARCH
- RSS Feed
SoundsXP Presents
Next show:

BAD FRIDAY!
Acts tbc

The Windmill, Brixton
Good Friday 2017, 3pm till late



On Our iPod
Latest Forum Posts
Support a good cause, see some great bands and win stuff!!
- replies (0)
Masonics + Baron Four + Ye Nuns + raffle!
- replies (0)
End of the Road 2016 - hits and misses
- replies (1)
17/9 Walthamstow Festival Indie Alldayer - Free!
- replies (0)
RIP David Bowie
- replies (7)
7/9 LDN Steven James Adams+Papernut Cambridge+Bill Botting
- replies (0)
Sat 6 Aug, London - Shake The Shacklewell IV
- replies (0)
Sounds XP Masters Fantasy league 2016/17
- replies (0)
LDN 20/8 Miracle Legion + Darren Hayman @ Oslo, Hackney
- replies (0)
LDN 22/7 Martha + Trust Fund + Neurotic Fiction @ The Dome
- replies (0)
Standard Fare / Runaround Kids / Nat Johnson




Queens Social Club, Sheffield

Article written by Matt H - Feb 17, 2013

Having been chuntering on about Standard Fare since around the time of their first split single on Thee SPC it was incumbent upon soundsxp to come and see them off as they play their final couple of gigs. Supporting at a farewell is a bit of a thankless task. More than ever the crowd really aren't there to see you. Standard Fare's erstwhile manager, Nat Johnson deals with it by keeping things acoustic and low-key (and having Emma from the headliners onstage). Not that that's a huge departure from the norm. Pleasing variety is brought to the delicate feather-light songs by getting some tripartite vocals with violinist Katherine Jackson completing the trio.

Runaround Kids take a different tack, not least because their shouty-but-tuneful racket was never going to qualify as low-key. So they go for enthusiasm. (Sometimes a bit much enthusiasm, the bassist approaches his 'second vocals' task rather like the monster out of Young Frankenstein – you keep expecting him to bellow "Putting on the Ritz!"). It's a US late 80's take on tuneful thrashing and distinctly rough around the edges, but infectious enough to raise a grin.

So to Standard Fare. Though some wail and gnash their teeth, it has never been that easy to get too het up about bands splitting. Most aren't really built to be a long term prospect. Ahead of this gig that seemed especially the case. Soundsxp has showered Standard Fare with plaudits, but they never quite became a fixture. Plus it's difficult to imagine that they won't be continuing in different forms and frankly there's always plenty just around the corner to distract (a new Kid Canaveral album in a couple of weeks ought to meet any guitar-pop jonesing we've got going on). The thing is, when they play, they prove they're moving on just as they really got it all sorted. Gone is all the tentativeness of early gigs. They were never going to be brash, but they hold the stage like they're meant to be there. Running through the core of their songs, they prove they've got rather more corking pop songs in their set than they have a right to. Emma's vocals always did set them apart, but they've definitely played off each other as a band. Lyrically they manage the rare trick of capturing the everyday without being banal, and the boys bring a bit of fun and important rock 'n roll chops to the mix too (though Andy's military jacket and Frank Spencer beret combo probably won't be missed). So whatever comes next won't quite be the same and we probably will miss them. Maybe it's time to go off and gnash the odd tooth after all.