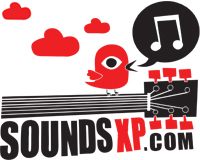 HOME
REVIEWS
albums
singles/downloads
gigs
demos
NEWS
INTERVIEWS
FREE MP3s
STREAMED MUSIC
MUSIC VIDEOS
FORUM
LINKS
ABOUT US
CONTACT US
SEARCH
- RSS Feed
SoundsXP Presents
Next show:

BAD FRIDAY!
Acts tbc

The Windmill, Brixton
Good Friday 2017, 3pm till late



On Our iPod
Latest Forum Posts
Where did everyone go?
- replies (1)
Support a good cause, see some great bands and win stuff!!
- replies (0)
Masonics + Baron Four + Ye Nuns + raffle!
- replies (0)
End of the Road 2016 - hits and misses
- replies (1)
17/9 Walthamstow Festival Indie Alldayer - Free!
- replies (0)
RIP David Bowie
- replies (7)
7/9 LDN Steven James Adams+Papernut Cambridge+Bill Botting
- replies (0)
Sat 6 Aug, London - Shake The Shacklewell IV
- replies (0)
Sounds XP Masters Fantasy league 2016/17
- replies (0)
LDN 20/8 Miracle Legion + Darren Hayman @ Oslo, Hackney
- replies (0)
Bear Driver




Article written by Paul M - Jun 16, 2010

Bear Driver are one the few British acts that get me out of the bed in the morning. They're also undoubtedly the premier exponents of "playfulindiepsychepopfuzz"… I caught up with them recently via email.

SoundsXP: You now live in London, having moved down from Leeds. What do you miss about the latter, other than Tetleys with a creamy head?

Bear Driver: The Brudenell Social Club!

SoundsXP: You started out as a two piece but now number half a dozen. I've seen the phrase "musical collective" mentioned. Does this fluidity mean members will be performing outside of Bear Driver too?

Bear Driver: Exactly, most of us play in or have other bands on the go. You'll find them in our myspace top friends thing.

SoundsXP: How would you describe your music?

Bear Driver: Erm playfulindiepsychepopfuzz ??

SoundsXP: Your music uses accordions, glocks, melodicas… Are there any instruments that are not going to be allowed on Bear Driver's tour bus?

Bear Driver: Saxophone (shudder)

SoundsXP: What had you done to make Tom Robinson exclaim on 6 Music, "I've never heard anyone do that before!"?

Bear Driver: He played one of our tracks from our ep Paws & Claws - on the song Thousand Samurais the live drums fade in half way through over the drum machine and he thought this sounded real strange. I think he said 'it's like the hi-hat has been pulled out from under water!'

SoundsXP: Who are your heroes?

Bear Driver: Musically - Radiohead, Yo La Tengo, Flaming Lips, Sonic Youth, Smog
Others - Herman Hesse, Joseph Campbell, Tove Jansson

SoundsXP: You recently played the Great Escape. Was that fun?

Bear Driver: Yeah, a lot of fun. Harry got a bit carried away and took out an overhead chandelier so we got to play on a bed of broken glass - wouldn't have it any other way.

SoundsXP: Any other festival appearances lined up for 2010?

Bear Driver: Not at the moment but we'll keep you posted.

SoundsXP: You have a single, Wolves, out in July on Animal Farm. How did you and that label get together?

Bear Driver: They'd seen us play a few times and wanted to do a single so seemed ideal!

SoundsXP: Any news on an album?

Bear Driver: We're writing lots at the moment but I think we'll do another single before we look to do an album.