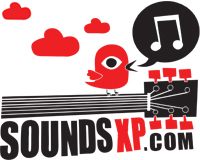 HOME
REVIEWS
albums
singles/downloads
gigs
demos
NEWS
INTERVIEWS
FREE MP3s
STREAMED MUSIC
MUSIC VIDEOS
FORUM
LINKS
ABOUT US
CONTACT US
SEARCH
- RSS Feed
SoundsXP Presents
Next show:

BAD FRIDAY!
Acts tbc

The Windmill, Brixton
Good Friday 2017, 3pm till late



On Our iPod
Latest Forum Posts
Where did everyone go?
- replies (0)
Support a good cause, see some great bands and win stuff!!
- replies (0)
Masonics + Baron Four + Ye Nuns + raffle!
- replies (0)
End of the Road 2016 - hits and misses
- replies (1)
17/9 Walthamstow Festival Indie Alldayer - Free!
- replies (0)
RIP David Bowie
- replies (7)
7/9 LDN Steven James Adams+Papernut Cambridge+Bill Botting
- replies (0)
Sat 6 Aug, London - Shake The Shacklewell IV
- replies (0)
Sounds XP Masters Fantasy league 2016/17
- replies (0)
LDN 20/8 Miracle Legion + Darren Hayman @ Oslo, Hackney
- replies (0)
Codes In The Clouds




Article written by Neil W - Jul 30, 2009

Codes In The Clouds' music is lush and expansive and they're signed to Erased Tapes records, the home of Peter Broderick amongst others. I bumped into the band whilst gazing at the clouds in the sky and posed them some questions:

Sounds XP: The beautiful music of Codes In the Clouds is entirely sans-vocals. What particularly interests you about instrumental music?

Codes In The Clouds: With instrumental music the listener can take what they want from it. There's no default reaction for people to have, no set paths for people's emotional response to run down. At gigs we sometimes get different people from the same crowd telling us about two completely different opinions of the songs we've played. The other thing is that we all individually listen to music where lyrics are the focal point, and we enjoy when someone can express what they have to say in a song, but it's important not to fill your material with words just for the sake of it.

Sounds XP: You're sent on a long mission to discover codes within the clouds. What five albums are you going to take with you?

Codes In The Clouds: That makes one each.
Stephen = Elliott Smith- Figure 8.
Joe = Beach Boys - Pet Sounds.
Rob = Oceansize - Music For Nurses.
Ciaran = Mogwai - Come On Die Young.
Jack = Radiohead - Kid A.

Sounds XP: You've been compared to the likes of Mono & Explosions In The Sky. This inevitably leads to writers using the frankly redundant term 'post-rock' to describe your music. You ok with that?

Codes In The Clouds: We're fine with people calling it whatever they want. If people pay us the compliment of talking about our music then we're happy for them to say what they like. It's nice to even be floating around people's consciousness at all. Anyway, maybe all genre is redundant because it's so subjective. That's why you end up with so many differently tailored sub-genres and so many ineffective catch-all terms like 'indie' or 'urban' music.

Sounds XP: You recently worked with US film-maker Mike Hedge, how did that come about?

Codes In The Clouds: He got in contact with Erased Tapes and said he was a fan of the label's stuff. We really liked his stuff, so it was perfect to work together. It was really fun to make the video with Mike and MacGregor, even though it involved dancing on a cold beach in December.

Sounds XP: There's an unsubstantiated theory that Schoenberg's Second Viennese School was set up in order to transmit codes within their serial music to the Nazi's during the Second World War. Are there any codes or messages hidden within your music?

Codes In The Clouds: If anyone can find any codes in there they're welcome to let us know. Take that as a challenge if you like.

Sounds XP: There's a club in existence called The Cloud Appreciation Society who express their love for those fascinating floating fluffy things in the sky. Are you members of any appreciation societies? If not, what society would you set up to celebrate your obsessions?

Codes In The Clouds: We're all a little obsessed with the rules and intricacies of social minutia. We like to point out the faux-pas we see around us, and criticise each other's mistakes. So maybe the 'Society for the Enforcement of Faux-Pas Law' ? The S.E.F.P.L ?

Sounds XP: You've done a lot of touring; where's the most memorable place you've played?

Codes In The Clouds: Well, Rough Trade and The Union Chapel in London were incredible. But in terms of atmosphere and energy, the 13th Note in Glasgow and Cafe Zapata in Berlin were really special.

Sounds XP: Your ace debut album 'Paper Crayon' was released in May this year on the label Erased Tapes. Do you have any current plans for a follow up or are you just concentrating on touring at the moment?

Codes In The Clouds: We have one grand idea for the second album as a whole, and a couple of songs basically finished, but it's all in the early stages of production right now. We write in and around touring so new stuff creeps into the set when we really like it. There's one song, that will definitely be on the second album, that we play almost every show now.

Sounds XP: Are there any new bands you're particularly fond of?

Codes In The Clouds: We really like The Shortwave Set, Rival Consoles and Tubelord. Oh and we're really into Baked Clouds, his EP is awesome. We're really happy because we've managed to get a Baked Clouds Remix on Paper Canyon Recycled.

Codes In The Clouds headline The Macbeth in Hoxton Street on August 4th.