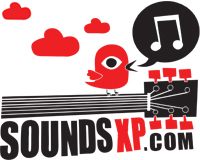 HOME
REVIEWS
albums
singles/downloads
gigs
demos
NEWS
INTERVIEWS
FREE MP3s
STREAMED MUSIC
MUSIC VIDEOS
FORUM
LINKS
ABOUT US
CONTACT US
SEARCH
- RSS Feed
SoundsXP Presents
Next show:

BAD FRIDAY!
Acts tbc

The Windmill, Brixton
Good Friday 2017, 3pm till late



On Our iPod
Latest Forum Posts
Where did everyone go?
- replies (0)
Support a good cause, see some great bands and win stuff!!
- replies (0)
Masonics + Baron Four + Ye Nuns + raffle!
- replies (0)
End of the Road 2016 - hits and misses
- replies (1)
17/9 Walthamstow Festival Indie Alldayer - Free!
- replies (0)
RIP David Bowie
- replies (7)
7/9 LDN Steven James Adams+Papernut Cambridge+Bill Botting
- replies (0)
Sat 6 Aug, London - Shake The Shacklewell IV
- replies (0)
Sounds XP Masters Fantasy league 2016/17
- replies (0)
LDN 20/8 Miracle Legion + Darren Hayman @ Oslo, Hackney
- replies (0)
Fanfarlo




Article written by Paul M - May 29, 2009

Fanfarlo are a London based outfit with folky, indiepop and soulful leanings. Their brilliant debut album was recently released following a handful of singles on various labels. I caught up with Justin from the band via email.

SXP: Your album, Reservoir, has been out now for a while but for a long time was available only from your site in self-pressed form or via iTunes. Any regrets about not tying up with an established label?

Justin: Well I guess every label just wants too much of our earnings for too long a period of time. I mean we've made this record and come this far on our own were just not willing to give that much away. The situation may change. We're excited to be running the show right now.

SXP: How did the limited box set version come about?

Justin: We like the idea of these cool ltd edition box sets. It feels great that our music inspires these ventures and pure groove had some good ideas and we had some good ideas and Rough Trade got involved so it was just fun for everyone.

SXP: How did you end up working with Peter Katis?

Justin: We compiled a list of producers that we would like to work with and Peter was more or less at the top. He liked our shot and if you listen to Interpol or the National and now our record you'll realise why we liked his work. He's a clever man.

SXP: You recently had jaunts to Amsterdam and Glasgow for festivals and busked in London. Which did you prefer?

Justin: Well going to European cities is always fun. They treat you good and everything is pretty as hell. We had friends in Dananananakroyd and Noisettes who also played so we could say hi. Our shit got lost in transit which was scary but it turned up.

SXP: What's currently on your stereo?

Justin: Oh god! I more or less exclusively listen to black metal so I'd have to say new records by Beherit, Wolves in the Throne Room and Sarke. I like The XX actually.

SXP: What keeps you awake at night?

Justin: Black metal mostly.

SXP: Are you all users of new technology? Is there a compulsive Twitterer amongst you?

Justin: Everything seems to be Internet based so yes, we all are. We all blog a lot about shit we dig. Fanfarlo.com is a hub of activity we like our friends/fans to get involved in. I don't get Twitter.

SXP: Could you recommend a good recent book?

Justin: Were all avid readers. Jeremy Warmsley who's playing guitar for us right now is a beast. He reads like a book a day. Cathy reading Ayn Rand which ok happy about. I'm obsessed with cycling Kraftwerk style so I'm reading a book called the escape artist about a guys obsession with cycling.

SXP: You're obviously a big fan of death metal. If I played Talking backwards, er, backwards, would I hear the devil talking?

Justin: Ha ha. I'm into black metal not death metal but I'll forgive your school boy error. If you listen to any of our shit backwards it tells you the meaning of life which is so ambiguous that it's virtually meaningless.

SXP: Many thanks, Justin!