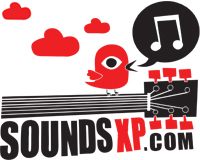 HOME
REVIEWS
albums
singles/downloads
gigs
demos
NEWS
INTERVIEWS
FREE MP3s
STREAMED MUSIC
MUSIC VIDEOS
FORUM
LINKS
ABOUT US
CONTACT US
SEARCH
- RSS Feed
SoundsXP Presents
Next show:

BAD FRIDAY!
Acts tbc

The Windmill, Brixton
Good Friday 2017, 3pm till late



On Our iPod
Latest Forum Posts
Where did everyone go?
- replies (0)
Support a good cause, see some great bands and win stuff!!
- replies (0)
Masonics + Baron Four + Ye Nuns + raffle!
- replies (0)
End of the Road 2016 - hits and misses
- replies (1)
17/9 Walthamstow Festival Indie Alldayer - Free!
- replies (0)
RIP David Bowie
- replies (7)
7/9 LDN Steven James Adams+Papernut Cambridge+Bill Botting
- replies (0)
Sat 6 Aug, London - Shake The Shacklewell IV
- replies (0)
Sounds XP Masters Fantasy league 2016/17
- replies (0)
LDN 20/8 Miracle Legion + Darren Hayman @ Oslo, Hackney
- replies (0)
Planet Earth




Article written by Mary B - Mar 25, 2009

Planet earth are always Sam and Nick with the odd musical genius thrown in for good measure. In between blessing London with their folky sounding ways and sound knowledge of chips, I spoke to Sam via a private message system because I can.

Soundsxp: You are called Planet Earth but can you name the planet that was recently discovered that kicked Pluto out of the solar system?

Sam: Hmm I'm guessing I can't answer this with internet help. Wasn't it called Xena?* That rings bells.

Soundsxp: Are you named after the Duran Duran song or the third rock from the sun?

Sam: No we're named after the Prince album. Not really. It's an Attenborough homage. http://www.youtube.com/watch?v=UgHch5Bg9Jg

Soundsxp: How did Planet Earth come to be?

Sam: I used to play in band called Bottlerocket with Charlie from Noah and the Whale, where we would take turns writing the songs. When he left university I asked my friend Nick to play guitar over my songs when I supported Schwervon. And thus we came to be! We've had a few different incarnations since but Nick still remains.

Soundsxp: I saw you at the Roundhouse last year (supporting Noah and the Whale) and myself and the company I was with all agreed that there was traces of 'Donovan' in your sound. Is this a fair assessment?

Sam: I would say this is an unfair assessment. However I am greatly influenced by the music of Vashti Bunyan, and she once undertook a horse-drawn voyage from London to Skye to visit Donovan's commune. So maybe it's an indirectly fair assessment.

Soundsxp: What kind of music do you listen to when you are not making your own?

Sam: Getatchew Kassa. David Ivar Herman Dune. Lil Wayne. Claude Debussy. Francois Marry. Redding Hunter. Tsegué-Maryam Guebrou. Jeffrey Lewis & The Junkyard.

Soundsxp: Are chips in the night more tasty than chips in the day?

Sam: A thousand times yes. Especially when covered in melted cheese. And bought on the curry mile in Manchester…I speak from experience.

Soundsxp: You have lots of gigs coming up and are supporting The Wave Pictures. Are you looking forward to it?

Sam: Muchly. They are in our top four favourite UK bands, and in the top two of that four. These are my five favourite Wave Pictures lyrics, in descending order:

"you got cystitis, didn't you?"

"I am the real slim shady"

"I never once got it up for you / but believe me when I say how much I wanted to"

"I don't need therapy because I have cigarettes / and I don't have any bad memories, only bitter regrets"

"I love the back garden of my parent's place / I love the view out of my Glasgow window / I love waking up on the floor of a flat in New York / and you don't know any of these things"

Soundsxp: Are there any copies of your 'Land before time' offering left? Can I have one? I have no money but I could trade you my Neil Young badge or preserved facial hair from Herman Dune*.

Sam: Reluctantly, I accept.

Soundsxp: You are playing The Stag and Dagger. In no more than one paragraph explain why people should sacrifice bands that clash with you to see you play?

Sam: Because we like all your favourite bands too.

Soundsxp: Talk to me about your debut single 'Bergman Movies'. What's the story behind it?

Sam: Young & Lost approached us about doing a single after seeing us play the Roundhouse last year. Bergman Movies is the story of people wishing they'd never said things to each other, using films and music to either avoid conflict or experience emotions they don't understand in real life. I think.

Soundsxp: You are also playing the Great Escape in Brighton but can you tell me the year that Brighton Pier opened? A stick of rock for the right answer.

Sam: 1900?* A nice round number.

Soundsxp: What are you going to do for easter? Will there be a egg hunt? Will the easter bunny feature in your plans?

Sam: We are all strict agnostics. We will spend Easter eating soya chocolate and reading Fournier to each other in hushed tones…Nick's actually scared of rabbits.

Soundsxp: Where are Planet earth going to now?

Sam: Who knows…if this single does ok, maybe someone will ask us to do another. But I suppose as long as we're happy doing what we do then we're succeeding; to an extent anyway. The rest is just a bonus, so I try very hard (mostly without success) to not worry about the future. To quote the Bhagavad Gita: "They who work selfishly for results are miserable".

Soundsxp: Finally, you are an amazing duo who find planet earth under attack from dire music. How would you combat this catastrophe?

Sam: Lock myself in my room and listen to 'From The Richest Planet' by David Herman Dune. It's worked before.

*Xena is correct or 'X' to her friends.
*No Herman Dunes were hurt while doing this interview.
*Ooh, close but not close enough in this game. My Victorian spies tell me that it was 1899 and not 1900 so you miss out on that stick of rock, Sam.

Travel to Planet Earth's website for their list of gigs coming up and for information on their new single. They are out of this world, that's not true actually, they are this world.