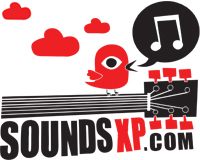 HOME
REVIEWS
albums
singles/downloads
gigs
demos
NEWS
INTERVIEWS
FREE MP3s
STREAMED MUSIC
MUSIC VIDEOS
FORUM
LINKS
ABOUT US
CONTACT US
SEARCH
- RSS Feed
SoundsXP Presents
Next show:

BAD FRIDAY!
Acts tbc

The Windmill, Brixton
Good Friday 2017, 3pm till late



On Our iPod
Latest Forum Posts
Where did everyone go?
- replies (0)
Support a good cause, see some great bands and win stuff!!
- replies (0)
Masonics + Baron Four + Ye Nuns + raffle!
- replies (0)
End of the Road 2016 - hits and misses
- replies (1)
17/9 Walthamstow Festival Indie Alldayer - Free!
- replies (0)
RIP David Bowie
- replies (7)
7/9 LDN Steven James Adams+Papernut Cambridge+Bill Botting
- replies (0)
Sat 6 Aug, London - Shake The Shacklewell IV
- replies (0)
Sounds XP Masters Fantasy league 2016/17
- replies (0)
LDN 20/8 Miracle Legion + Darren Hayman @ Oslo, Hackney
- replies (0)
Sleaford Mods




Article written by Mary B - Dec 16, 2014

I have been a bit slack on the interview front this year and so decided to end it with a monumental one and who more fitting for this than the Sleaford Mods? Somehow Jason Williamson found the time to answer the following questions on the likes of Mr Kipling, the war on women, politics and Christmas presents. Jason, you are a gem.

SoundsXP: To the uninitiated it would seem like you have had a 'meteoric rise' to success but it is not as simple as that is it?

Jason: No, deffo not. It's been 25 years of study and realisation for both of us.

SoundsXP: You seem to be everywhere at the moment. It has been exciting reading about your touring in Amsterdam, Ireland and New York (to name a few). What has the reception been like? Your highlights and low times so far?

Jason: The response has been mad. Packed houses every night and that, it's a dream come true for any musician. Touring is hard work, cos it's fucking boring so as long as you don't turn into a drug addict you can get by ok.

SoundsXP: You have quite a dedicated fan base. There seems to be a real sense of community don't you think? It's nice right? You are responsive to them.

Jason: Yes because I know what it's like to be talked down to and ignored. We talk to most who fancy a natter.

SoundsXP: I read somewhere a woman saying "There's not an ounce of misogyny in your work." How do you feel when you read comments like that? Do you give it much thought? Is that a conscious decision?

Jason: Well there used to be. The early recordings contained lots of misogyny and that was partly down to my observations of other people and my own closed view towards women. Men are taught to discredit women and it's a shackle that can only be released through self education. My wife opened my eyes to the war on women.

SoundsXP: How did Grammar Wanker come about?

Jason: Christian, the owner of Bracketpress, got talking to me through a friend of his who suggested a book of my lyrics might work. It went from there.

SoundsXP: How do you deal with the negativity with comments like 'one trick pony'? The world can't love you but does it have an effect?

Jason: Wankers who don't get it. They will do in 10 years.

SoundsXP: Everything I read about you more often than not leads back to the one thing – politics. You have a lot to say as a band hey? Are the Sleaford Mods a politically driven music machine?

Jason: No more than anybody. We just put it into our lyrics because it's important. I read an interview with that tool from Young Fathers who said he found political bands boring and wanted to see more from an act. Like what? David Beckham? Because outside of the struggle that's all there is. Glamour and dogshit. Fuck off.

SoundsXP: Do you think that your sound will keep evolving and transform into something else over time? The folk girl in me wants a tambourine in there somewhere. I can dream right?

Jason: It evolves naturally but at the same time has its core formula which we will adapt and stuff so yea.

SoundsXP: I see your band as a music version of Charles Dickens with your social commentary bleeding through tracks. Do you think that is why your music is gathering attention? There is an anger in the air and not many bands are reflecting on this. You are.

Jason: Yea, people still drunk on the heady days of the 90's and the initial promise of the Libertines. Glamour is still dominant because nobody wants the truth generally. There are a growing amount of people tuned into the madness of Westminster who are connecting to alternative stuff and wanting real information.

SoundsXP: You have been up for awards and won the odd one. Does it mean anything to you?

Jason: No.

SoundsXP: Does Mr Kipling make exceedingly good cakes or is he full of shit? If you had to compare the Sleaford Mods to a Kipling cake what would you be?

Jason: French Fancy or Almond Slice. Funny that, I've just been to shop and bought some. Love 'em.

SoundsXP: The downside of getting some success in the music industry is answering questions on cakes You said the other day something along the lines of "being bored of being a professional musician". Was it a flippant joke, slightly deep reflection or somewhere in between?

Jason: Bit of both. Touring is shite.

SoundsXP: What makes you angry? What makes you smile?

Jason: Angry = Delusion. Smile = Family.

SoundsXP: The journey from Sleaford Mods to Divide and Exit – how do you feel when you look back on your body of work so far? Do you even look back?

Jason: Bit but not much. I don't wanna gloat on it.

SoundsXP: Do you think that social media like twitter is a good or bad thing for music? At this stage I should say that I am a huge fan of your twitter account. It is really entertaining.

Jason: Love twitter. You can really piss people off and obviously get pissed off yaself, lol.

SoundsXP: Are you worried about your music future? Do you wonder if the bubble that has slowly formed is going to quickly pop? Are you lost in these music moments?

Jason: Bit but not much. I'm ready to go back to work. My family won't go away. The pub won't go away will it?

SoundsXP: You are spawning 'copycats' on the web it would appear. Imitation is the highest form of flattery right? A sign that you have 'made' it?

Jason: I don't like it. If it's a good piss take I don't mind but any serious take is a bit naff innit?

SoundsXP: What do you want for Christmas? I'm not offering. I'm skint.

Jason: A new coat.

SoundsXP: To me, you saved music this year. You made it interesting again. I thank you for that. How can you top that in 2015? What can we expect?

Jason: Thank you. A new album, more shit.

SoundsXP: Finally, sum up the Sleaford Mods in one sentence.

Jason: Top rave

Top Rave indeed. If you haven't let the Sleaford Mods into your musical life yet you need to sit down and have a quiet word with yourself. Check out the discography or catch them at one of the many live gigs in the New Year. I know I will be. Right, I'm off to eat some French Fancies and listen to 'Chubbed Up'....