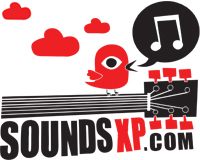 HOME
REVIEWS
albums
singles/downloads
gigs
demos
NEWS
INTERVIEWS
FREE MP3s
STREAMED MUSIC
MUSIC VIDEOS
FORUM
LINKS
ABOUT US
CONTACT US
SEARCH
- RSS Feed
SoundsXP Presents
Next show:

BAD FRIDAY!
Acts tbc

The Windmill, Brixton
Good Friday 2017, 3pm till late



On Our iPod
Latest Forum Posts
Where did everyone go?
- replies (0)
Support a good cause, see some great bands and win stuff!!
- replies (0)
Masonics + Baron Four + Ye Nuns + raffle!
- replies (0)
End of the Road 2016 - hits and misses
- replies (1)
17/9 Walthamstow Festival Indie Alldayer - Free!
- replies (0)
RIP David Bowie
- replies (7)
7/9 LDN Steven James Adams+Papernut Cambridge+Bill Botting
- replies (0)
Sat 6 Aug, London - Shake The Shacklewell IV
- replies (0)
Sounds XP Masters Fantasy league 2016/17
- replies (0)
LDN 20/8 Miracle Legion + Darren Hayman @ Oslo, Hackney
- replies (0)
The Bees




Article written by Mary B - Apr 17, 2008

Ah, The Bees. They've earned their musical stripes, they're a bunch of honeys...Ok, enough with the puns. I caught up with Aaron Fletcher (Fletch) via a private messaging system to discuss the acoustics of sheds and what role wasps play in nature.

SoundsXP: Let's start with the compilation album. It's just brilliant. How did it come about, how did you decide what went on there and when are you taking it to the people with a host of 'gigs'?

Fletch: Our albums have always been more influenced by mixtapes and comps than complete albums. We've always wanted to put a compilation out for official release together and the nice people at Tirk helped us out. Choosing tracks is tricky, it's a long processs of asking bands and labels and weirdos if we can use the tracks. This comp took time...

SoundsXP: How do you incorporate your influences into your own music?

Fletch: We take styles as influence, they come in all shapes and sizes, we just squeeze them in.

SoundsXP: Is there any point to wasps in nature? The bees have a place but do the wasps?

Fletch: Wasps are there to be bad.

SoundsXP: Where do The Bees come from? How did you get together and why that name? How do you stay together?!

Fletch: We're all from the Isle of Wight. We got together to play a John Peel session and our name is great. We stay together by trial and error.

SoundsXP: Papa Echo is a feast for the ears. What's the story behind that?

Fletch: This song was written on the patio. It's not a true story, like most Bees' songs. It's laced with positive vibes and attitudes which is all I want to do as a song writer. It's a crazy thing

SoundsXP: Donovan is on that compilation album of yours. I can't tell you how happy that made me. Is Donovan criminally ignored?

Fletch: I think you're right, although when people hear the Donovan track on the comp, they jump out off their seats saying their mum used to play it to them when they were little.

SoundsXP: Are you really known as 'A band of Bees' in America? Why, if that's the case?

Fletch: We are. There was another Bees who were shit and said we weren't allowed to be called that in the States. Anyhow they don't exist now so we're The Bees all over.

SoundsXP: According to my extensive research, some of your tunes have been used in adverts but not for the likes of 'Honey nut loops'. Squandered opportunities? What do you think about the whole idea that if a song gets used in an ad, its soul gets ripped out (maybe not ripped out but that the song in some way loses its identity to the consumer world)

Fletch: Well, it's cool innit? Everyone wins. We can't ignore making a living over being a hippy.

SoundsXP: Do sheds really make good recording studios?

Fletch: A big 'Yes'.

SoundsXP: Who would you like to collabarote with next, if anybody?

Fletch: Shed 7.

SoundsXP: What is heaven on earth for The Bees?

Fletch: Finishing songs and records is heavenly. The future is heavenly too.

SoundsXP: What festivals are The Bees playing at this year and why should people feel compelled to go and see you?

Fletch: Sorry, not sure what fests at the moment.

SoundsXP: If The Bees wrote their life story (so far) what would it be called and how many chapters would it take to fill the pages of life?

Fletch: 'A million ways to kill a bee' and 10 years worth of chapters.

SoundsXP: What/who do The Bees fear?

Fletch: Nothing.

SoundsXP: Where next for The Bees? What musical avenues are left to walk down?

Fletch: A film soundtrack, yeah we'd be killer at that.

No doubt, Lad. Check The Bees' website for up and coming live dates. They're buzzing...