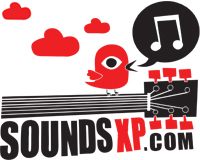 HOME
REVIEWS
albums
singles/downloads
gigs
demos
NEWS
INTERVIEWS
FREE MP3s
STREAMED MUSIC
MUSIC VIDEOS
FORUM
LINKS
ABOUT US
CONTACT US
SEARCH
- RSS Feed
SoundsXP Presents
Next show:

BAD FRIDAY!
Acts tbc

The Windmill, Brixton
Good Friday 2017, 3pm till late



On Our iPod
Latest Forum Posts
Where did everyone go?
- replies (0)
Support a good cause, see some great bands and win stuff!!
- replies (0)
Masonics + Baron Four + Ye Nuns + raffle!
- replies (0)
End of the Road 2016 - hits and misses
- replies (1)
17/9 Walthamstow Festival Indie Alldayer - Free!
- replies (0)
RIP David Bowie
- replies (7)
7/9 LDN Steven James Adams+Papernut Cambridge+Bill Botting
- replies (0)
Sat 6 Aug, London - Shake The Shacklewell IV
- replies (0)
Sounds XP Masters Fantasy league 2016/17
- replies (0)
LDN 20/8 Miracle Legion + Darren Hayman @ Oslo, Hackney
- replies (0)
Beak> To Split On New EP, Live Dates Announced




Article written by Kev W - Jun 2, 2015

"Invada Records are to release a brand new four track 'double B-side' EP, featuring two tracks from BEAK> and two from their 'alter-ego'
The 4 track EP features 'The Meader' and 'The Broken Window' by BEAK> and 'When We Fall' and 'There's No One' from
BEAK> are Billy Fuller, Geoff Barrow & Matt Williams. The trio hail from Bristol, UK and are signed to Invada Records, they have released two full length albums and several EP's / Singles.

BEAK> have toured Europe & North America several times including performances at Primavera, Glastonbury and numerous ATP festivals. The band have also toured with artists such as The Horrors, Chris Cunnigham, Savages and Earth.

BEAK> have also recently completed a score for the upcoming Tom Geens psychological drama 'Couple In A Hole'. The movie and score will be released later in 2015.

BEAK>
Current dates as follows:

JUNE

26th – Brussels – Out Loud @ Beursschouwburg

27th – Paris – Petit Bain

28th – Metz – Tcrm-Bilda

29th – Amsterdam – Muziekgebouw Aan Tij

30th – London – Roundhouse (with Godspeed You! Black Emperor)"