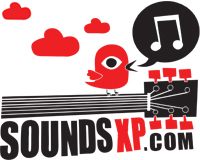 HOME
REVIEWS
albums
singles/downloads
gigs
demos
NEWS
INTERVIEWS
FREE MP3s
STREAMED MUSIC
MUSIC VIDEOS
FORUM
LINKS
ABOUT US
CONTACT US
SEARCH
- RSS Feed
SoundsXP Presents
Next show:

BAD FRIDAY!
Acts tbc

The Windmill, Brixton
Good Friday 2017, 3pm till late



On Our iPod
Latest Forum Posts
Where did everyone go?
- replies (1)
Support a good cause, see some great bands and win stuff!!
- replies (0)
Masonics + Baron Four + Ye Nuns + raffle!
- replies (0)
End of the Road 2016 - hits and misses
- replies (1)
17/9 Walthamstow Festival Indie Alldayer - Free!
- replies (0)
RIP David Bowie
- replies (7)
7/9 LDN Steven James Adams+Papernut Cambridge+Bill Botting
- replies (0)
Sat 6 Aug, London - Shake The Shacklewell IV
- replies (0)
Sounds XP Masters Fantasy league 2016/17
- replies (0)
LDN 20/8 Miracle Legion + Darren Hayman @ Oslo, Hackney
- replies (0)
Claire Turley RIP




Article written by A SoundsXP writer - Aug 27, 2014

We at Soundsxp were really sad to hear about the death of Claire Turley earlier this week. We didn't really know Claire, beyond a quick word at a gig here or an interview there, but we've reviewed her bands countless times and seen her play live more often than we can remember. When covering Slow Down Tallahassee, the Bon Bon Club, Navvy or the Penny Licks, Claire always stood out. Over the years we've dubbed her 'the hardest working person in Sheffield music' and even a 'potty-mouthed siren' (thanks to an excellently and endearingly expletive-laden interview with Slow Down Tallahassee). Everything she was involved with we really liked. For someone who was part of a band that declared once that they didn't "want some fake career in being an indie pop band" she made far more great music than many that did.

As with any tragic event the real grief lies with family and friends and our thoughts are with them. But the music that we love will be poorer without her, so we wanted to say that we will miss her too and always return to the music that she made.