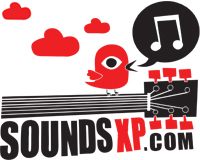 HOME
REVIEWS
albums
singles/downloads
gigs
demos
NEWS
INTERVIEWS
FREE MP3s
STREAMED MUSIC
MUSIC VIDEOS
FORUM
LINKS
ABOUT US
CONTACT US
SEARCH
- RSS Feed
SoundsXP Presents
Next show:

BAD FRIDAY!
Acts tbc

The Windmill, Brixton
Good Friday 2017, 3pm till late



On Our iPod
Latest Forum Posts
Where did everyone go?
- replies (0)
Support a good cause, see some great bands and win stuff!!
- replies (0)
Masonics + Baron Four + Ye Nuns + raffle!
- replies (0)
End of the Road 2016 - hits and misses
- replies (1)
17/9 Walthamstow Festival Indie Alldayer - Free!
- replies (0)
RIP David Bowie
- replies (7)
7/9 LDN Steven James Adams+Papernut Cambridge+Bill Botting
- replies (0)
Sat 6 Aug, London - Shake The Shacklewell IV
- replies (0)
Sounds XP Masters Fantasy league 2016/17
- replies (0)
LDN 20/8 Miracle Legion + Darren Hayman @ Oslo, Hackney
- replies (0)
Apes, Pigs and Spacemen




Simple Simian (4 track ep)

Phat Monkey Records

Article written by Mary B - Jan 31, 2007

With a press release that tells me that the song 'So what if' is a 'restrained, ironic vocal delivery and, once again, a chorus that any band would give their right arm for' I can barely contain the excitement as I imagine Dylan and an array of others setting to work with a saw to rid themselves of same said limb. And when the press release also tells me that the track 'The best thing' is 'so catchy that, though it hasn't yet been released, a number of artists are already planning to record their own versions of it' this ep can't play quick enough for me... their mothers must be responsible for their press release for only a mother could gush like that over nothing. This is bog standard rock from this UK four piece outfit. It will not offer listeners anything that they haven't heard before. The lyrics are actually slightly embarassing especially In 'The Wrong Pill' - 'See you when the chips are up' (Are you writing this down, Dylan?). This is Bryan Adams on a bad day (and Bryan doesn't have good days in my book) The worst song on here is 'Bored of everything' (apt). It's a car crash of a record that I can't bring myself to listen to again. Think a poor man's 'Walk this way' and you're close. And as the singer says 'Hey monkey, tell me when you've had enough?' my finger presses the stop button. Even the press release can't bring itself to talk about 'Bored of everything'. It's sad because Apes, Pigs and Spacemen is an interesting name for a group. That's where it ends. It's not dire, i've heard worse, it's just not worth exploring either. Put your saws down, Dylan and co, you're safe for some time yet.