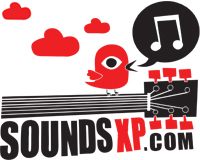 HOME
REVIEWS
albums
singles/downloads
gigs
demos
NEWS
INTERVIEWS
FREE MP3s
STREAMED MUSIC
MUSIC VIDEOS
FORUM
LINKS
ABOUT US
CONTACT US
SEARCH
- RSS Feed
SoundsXP Presents
Next show:

BAD FRIDAY!
Acts tbc

The Windmill, Brixton
Good Friday 2017, 3pm till late



On Our iPod
Latest Forum Posts
Where did everyone go?
- replies (1)
Support a good cause, see some great bands and win stuff!!
- replies (0)
Masonics + Baron Four + Ye Nuns + raffle!
- replies (0)
End of the Road 2016 - hits and misses
- replies (1)
17/9 Walthamstow Festival Indie Alldayer - Free!
- replies (0)
RIP David Bowie
- replies (7)
7/9 LDN Steven James Adams+Papernut Cambridge+Bill Botting
- replies (0)
Sat 6 Aug, London - Shake The Shacklewell IV
- replies (0)
Sounds XP Masters Fantasy league 2016/17
- replies (0)
LDN 20/8 Miracle Legion + Darren Hayman @ Oslo, Hackney
- replies (0)
Dirty Fuzz




Tell Ya Mama

Demo

Article written by Mary B - Jan 28, 2007

I've got to tell you that I was slightly sceptical about this song when I looked at the front cover of it. The name 'Dirty Fuzz' does not do anything for me either. However on first listen it's pretty obvious that Dirty Fuzz have got themselves a jewel of a front lady in Elida Zulu, an ex-nurse. She has the kind of vocals that demand that you listen to her. She's loud and proud with the kind of control that some singers can only dream about. It's no surprise to read that Basement Jaxx asked her to front the vocals on one of their latest offerings. Tell ya mama is rock with a punch, threatening guitars and has a 'You will listen to me' attitude running through it. I think that the best is yet to come from this 4 piece London band. Unfortunately I only have one song to go on and this leaves me wanting to hear more. They've been compared to the Stooges, Zeppelin and the Uk's answer to The Bellrays (which does them a slight injustice I think - it's a lazy comparison and Elida, in particular, deserves better for her voice is so much stronger than Lisa Kekaula's vocals). Personally I can hear the Rolling Stones in their music and Sympathy for the Devil definitely makes a guest appearance on this track as Elida let's out a few 'Whoo hoos.' If you're a fan of old style rock with a modern twist this is just what the doctor ordered.