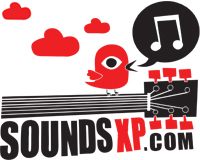 HOME
REVIEWS
albums
singles/downloads
gigs
demos
NEWS
INTERVIEWS
FREE MP3s
STREAMED MUSIC
MUSIC VIDEOS
FORUM
LINKS
ABOUT US
CONTACT US
SEARCH
- RSS Feed
SoundsXP Presents
Next show:

BAD FRIDAY!
Acts tbc

The Windmill, Brixton
Good Friday 2017, 3pm till late



On Our iPod
Latest Forum Posts
Where did everyone go?
- replies (0)
Support a good cause, see some great bands and win stuff!!
- replies (0)
Masonics + Baron Four + Ye Nuns + raffle!
- replies (0)
End of the Road 2016 - hits and misses
- replies (1)
17/9 Walthamstow Festival Indie Alldayer - Free!
- replies (0)
RIP David Bowie
- replies (7)
7/9 LDN Steven James Adams+Papernut Cambridge+Bill Botting
- replies (0)
Sat 6 Aug, London - Shake The Shacklewell IV
- replies (0)
Sounds XP Masters Fantasy league 2016/17
- replies (0)
LDN 20/8 Miracle Legion + Darren Hayman @ Oslo, Hackney
- replies (0)
Mach Schau




Demonstration One

Article written by Neil W - Aug 18, 2005


Mach Shau boldly claim to be "Southamptons finest punk rock and roll group". It's a particularly bold statement considering the searing Help She Cant Swim hail from that part of this small island. Let's hope 'Demonstration One' lives up to this intrepid claim.

Track one, 'Feel the Way', starts off promising with a boisterous riff reminiscent of The Clash's 'What's My Name.' The song is full of youthful energy but it suffers from an unnecessary bog standard guitar solo and you can't help but notice that the tune sounds awfully like '99 Red Balloons', which, as you can imagine, is a bit off-putting to say the least.

After the fast paced opener things get toned down considerably on track two and 'Shoot the Blues' slumps into a Britpop coma. The tune sticks in my head for a good few hours but it isn't as unpleasant as having '99 Red Balloons' lodged firmly in there.

Will track three, 'She Said', lift them from the mid-tempo ramblings of 'Shoot the Blues'? The answer is almost a yes. 'She Said' is a catchy, up-beat number that contains a similar punch and vocal delivery as The Libertines but it just sounds a little too familiar to be convincing. It also took me a while to work out what 'She' actually 'Said' but after repeated listens it seems like it's a story about the troubles of a long distance relationship.

'Demonstration one' has demonstrated that Mach Shau are capable of producing memorable songs but with so many similar bands around at the moment I just don't think they're unique enough to break through. We shall see.