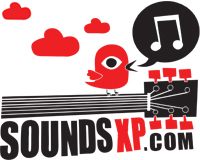 HOME
REVIEWS
albums
singles/downloads
gigs
demos
NEWS
INTERVIEWS
FREE MP3s
STREAMED MUSIC
MUSIC VIDEOS
FORUM
LINKS
ABOUT US
CONTACT US
SEARCH
- RSS Feed
SoundsXP Presents
Next show:

BAD FRIDAY!
Acts tbc

The Windmill, Brixton
Good Friday 2017, 3pm till late



On Our iPod
Latest Forum Posts
Where did everyone go?
- replies (1)
Support a good cause, see some great bands and win stuff!!
- replies (0)
Masonics + Baron Four + Ye Nuns + raffle!
- replies (0)
End of the Road 2016 - hits and misses
- replies (1)
17/9 Walthamstow Festival Indie Alldayer - Free!
- replies (0)
RIP David Bowie
- replies (7)
7/9 LDN Steven James Adams+Papernut Cambridge+Bill Botting
- replies (0)
Sat 6 Aug, London - Shake The Shacklewell IV
- replies (0)
Sounds XP Masters Fantasy league 2016/17
- replies (0)
LDN 20/8 Miracle Legion + Darren Hayman @ Oslo, Hackney
- replies (0)
Onions




Article written by Mary B - Mar 7, 2007

They must put something in the water in Manchester. It is home to some of music's most prominent acts and Onions, on evidence of this untitled demo, seem to have been drinking from the Mancunian Spring also. This is the second release from the trio and it is quite simply a stunning achievement. This really is one of the most infectious collections of songs that I have come across in some time. A 4 track offering it's a fine example of what can be accomplished if musicians go against the grain sometimes.

It starts off with the catchy 'If it ain't gonna happen now'. From the first note the listener will be hooked and with a festival of guitars and drums to coincide with the optimistic lyrics this really is an impressive opening track. It just gets better though as the next song 'Onion' kicks in. For any music lover in doubt that a band can pull off a song about the fear that an edible bulb can bring, think again. This is the best song on the demo and the funkiest track about onions since Booker T's boys. It boasts some unbelievably groovy bass lines and beats to prop up the hilarious lyrics. 'If it's down on the tin man, it's not coming in man.' There is also evidence of some great harmonies on 'Onion' that would make The Flying Picketts feel proud.

The next track entitled 'Look like a Loser' is more like a winner. It is such an inventive record. It's a first class toe tapper of a tune with music that dips and peaks in perfect time to some crazy lyrics. And as the words 'I've found a whole new rhythm of my own' project themselves onto my willing ears, I find myself nodding in agreement. If it sounds like I am gushing, it's because I am. The last track, Metal Belt, sounds like The Beatles meeting Jimi Hendrix for a jam. There are some wonderful guitar rifts here running alongside the consistent drum beat. Sometimes with demos the songs just blend into each other in a humdrum fashion. The tracks on here stand apart in their own right and as the demo comes to an abrupt end, I find myself feeling a little sad. People will never tire of listening to these songs. I've subjected myself to them several times and they are as fresh as the first listen. If this band's reputation does not grow in the music world, I'll eat my onion.