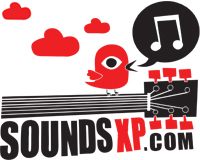 HOME
REVIEWS
albums
singles/downloads
gigs
demos
NEWS
INTERVIEWS
FREE MP3s
STREAMED MUSIC
MUSIC VIDEOS
FORUM
LINKS
ABOUT US
CONTACT US
SEARCH
- RSS Feed
SoundsXP Presents
Next show:

BAD FRIDAY!
Acts tbc

The Windmill, Brixton
Good Friday 2017, 3pm till late



On Our iPod
Latest Forum Posts
Where did everyone go?
- replies (1)
Support a good cause, see some great bands and win stuff!!
- replies (0)
Masonics + Baron Four + Ye Nuns + raffle!
- replies (0)
End of the Road 2016 - hits and misses
- replies (1)
17/9 Walthamstow Festival Indie Alldayer - Free!
- replies (0)
RIP David Bowie
- replies (7)
7/9 LDN Steven James Adams+Papernut Cambridge+Bill Botting
- replies (0)
Sat 6 Aug, London - Shake The Shacklewell IV
- replies (0)
Sounds XP Masters Fantasy league 2016/17
- replies (0)
LDN 20/8 Miracle Legion + Darren Hayman @ Oslo, Hackney
- replies (0)
The Really Really Metro Cities




Article written by James S - Aug 17, 2005

Brighton might just be the greatest place on earth right now. More gorgeous girls per square inch than is strictly healthy for any man with a girlfriend, a beach to sit on or swim from at four in the morning when you stumble from a club and a burgeoning music scene to rival that big place up the other end of the A23.

The Really Really Metro Cities claim to be at the forefront of this south coast tidal wave of exciting new acts, but I'd rather sit on the pebble beach in January with chronic piles than sit through this demo again. La Mallaleche and Biff Bang Pow are passionless pub-rock soul; if they were any more cod they'd be from Grimsby. Lead singer Matt Poole's vocals are X Factor-lite at best, whilst the backing 'whoahs', 'yeahs' and pointless line repetition from Gayle Gold makes Rowetta sound like Aretha.

Unidentified Disco Infection (oh pur-lease!) tries to inject some baggy grooves into the proceedings and serves only to remind you that the Happy Mondays have been complete bollocks since they released 'Pills, Thrills and Bellyaches', and One Night In Shoreham manages the stunning combination of a hideously overwrought intro, a jaunty country number almost worthy of the Broken Family Band and the ability to outstay its welcome within two minutes. Really Really Metro Cities? Really really pretty shitty, I'm afraid.