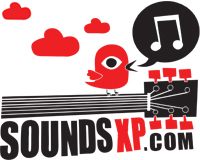 HOME
REVIEWS
albums
singles/downloads
gigs
demos
NEWS
INTERVIEWS
FREE MP3s
STREAMED MUSIC
MUSIC VIDEOS
FORUM
LINKS
ABOUT US
CONTACT US
SEARCH
- RSS Feed
SoundsXP Presents
Next show:

BAD FRIDAY!
Acts tbc

The Windmill, Brixton
Good Friday 2017, 3pm till late



On Our iPod
Latest Forum Posts
Where did everyone go?
- replies (0)
Support a good cause, see some great bands and win stuff!!
- replies (0)
Masonics + Baron Four + Ye Nuns + raffle!
- replies (0)
End of the Road 2016 - hits and misses
- replies (1)
17/9 Walthamstow Festival Indie Alldayer - Free!
- replies (0)
RIP David Bowie
- replies (7)
7/9 LDN Steven James Adams+Papernut Cambridge+Bill Botting
- replies (0)
Sat 6 Aug, London - Shake The Shacklewell IV
- replies (0)
Sounds XP Masters Fantasy league 2016/17
- replies (0)
LDN 20/8 Miracle Legion + Darren Hayman @ Oslo, Hackney
- replies (0)
Shortwave Fade




This Is How It Ends EP

Article written by Ian R - Jun 15, 2005


Defining a band solely through comparisons to other acts is a crutch for lazy hacks, but can prove almost unavoidable at times. This would seem to be the case with Shortwave Fade on first listen. Lead track 'Still Dream of Ghosts' is pure Ash, 'Stupidly' pogos somewhere between the Wonderstuff and Supergrass, while 'Through Hoops' shines its light on JJ72 and Suede. Then there are the Jarvis Cocker vocal stylings of 'We Get What We Want' to take into account. It's nothing you haven't heard before but then the glut of bands currently sniffing around the top ten have proved that's of little importance when it comes to achieving success.

But while this may be a bit indie circa 1997, amongst it all there is a gentle yet angry energy which, if nurtured, could see Shortwave Fade shrug off these associations and flourish in their own right.