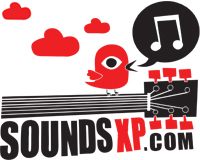 HOME
REVIEWS
albums
singles/downloads
gigs
demos
NEWS
INTERVIEWS
FREE MP3s
STREAMED MUSIC
MUSIC VIDEOS
FORUM
LINKS
ABOUT US
CONTACT US
SEARCH
- RSS Feed
SoundsXP Presents
Next show:

BAD FRIDAY!
Acts tbc

The Windmill, Brixton
Good Friday 2017, 3pm till late



On Our iPod
Latest Forum Posts
Where did everyone go?
- replies (1)
Support a good cause, see some great bands and win stuff!!
- replies (0)
Masonics + Baron Four + Ye Nuns + raffle!
- replies (0)
End of the Road 2016 - hits and misses
- replies (1)
17/9 Walthamstow Festival Indie Alldayer - Free!
- replies (0)
RIP David Bowie
- replies (7)
7/9 LDN Steven James Adams+Papernut Cambridge+Bill Botting
- replies (0)
Sat 6 Aug, London - Shake The Shacklewell IV
- replies (0)
Sounds XP Masters Fantasy league 2016/17
- replies (0)
LDN 20/8 Miracle Legion + Darren Hayman @ Oslo, Hackney
- replies (0)
Sky Larkin




Article written by Matt P - Mar 8, 2006

Sky Larkin are from Leeds. "Another one?!" I hear you cry. Well don't run off just yet, because the Larkin are worth listening to! There is an attitude and forcefulness behind the music which grabs the attention, and leave you wanting more. The style is indie-pop with a steely edge that lets the melody do the talking.

Traits and Traitors extols their virtues most effectively: a threatening five minute romp driven by rolling drums, crashing cymbals and scything guitars. Somersault leans less towards the rock and more towards the suave pop, but will nonethless leave you shouting "notes!" at inconvenient moments. All the songs manage to be broadly different, with the one constant being Katie Harkin's strong vocals. It makes you wonder where this lot could get to with the assistance of a PR machine as effective as the Arctic Monkeys'!