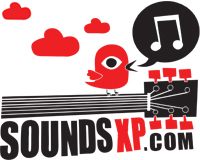 HOME
REVIEWS
albums
singles/downloads
gigs
demos
NEWS
INTERVIEWS
FREE MP3s
STREAMED MUSIC
MUSIC VIDEOS
FORUM
LINKS
ABOUT US
CONTACT US
SEARCH
- RSS Feed
SoundsXP Presents
Next show:

BAD FRIDAY!
Acts tbc

The Windmill, Brixton
Good Friday 2017, 3pm till late



On Our iPod
Latest Forum Posts
Where did everyone go?
- replies (0)
Support a good cause, see some great bands and win stuff!!
- replies (0)
Masonics + Baron Four + Ye Nuns + raffle!
- replies (0)
End of the Road 2016 - hits and misses
- replies (1)
17/9 Walthamstow Festival Indie Alldayer - Free!
- replies (0)
RIP David Bowie
- replies (7)
7/9 LDN Steven James Adams+Papernut Cambridge+Bill Botting
- replies (0)
Sat 6 Aug, London - Shake The Shacklewell IV
- replies (0)
Sounds XP Masters Fantasy league 2016/17
- replies (0)
LDN 20/8 Miracle Legion + Darren Hayman @ Oslo, Hackney
- replies (0)
The Bad Robots




Demo

Article written by Kev O - Apr 11, 2006

The press release describes London-based three-piece The Bad Robots as "…an energetic mix of flat out rock and ska, combining the power of The Clash with the appeal of The Police…"; elsewhere it mentions jazz. Now when I see the word jazz I want to reach for my ear muffs; The Police, my revolver; The Clash, well that's something to live up to.

Thankfully, jazz and The Police take a back seat to the sort of scruff/ska/rock/punk mix that seems so prevalent these days. Nothing wrong with that and the three tracks on display suggest that The Bad Robots have something to offer alongside other street-skankers. I've Had Enough ("At the start it was fun/But now you're taking the piss") is rough-ready mix of energetic old skool punk/new wave with a heavy dollop of pop vocal/harmonies, and a ref is probably more The Members than The Police. Used to Being Useless has a juxtaposed bubbling/jerky rhythm and sounds like The Jam in bondage trousers. Warning: contains bass solo alert ;). Security has a steady skanking beat and Wobble-y bass, a sneery vocal (haven't heard "traaaaaace-aaaaaaaahhh" for ages), all chopped up with ska-rock breaks. Ferget yer paranoid androids (and metal mickeys), check out The Bad Robots (new chips on the block).

It just goes to show that you shouldn't pay attention to press releases.