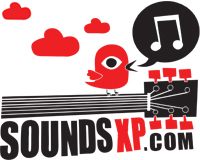 HOME
REVIEWS
albums
singles/downloads
gigs
demos
NEWS
INTERVIEWS
FREE MP3s
STREAMED MUSIC
MUSIC VIDEOS
FORUM
LINKS
ABOUT US
CONTACT US
SEARCH
- RSS Feed
SoundsXP Presents
Next show:

BAD FRIDAY!
Acts tbc

The Windmill, Brixton
Good Friday 2017, 3pm till late



On Our iPod
Latest Forum Posts
Where did everyone go?
- replies (0)
Support a good cause, see some great bands and win stuff!!
- replies (0)
Masonics + Baron Four + Ye Nuns + raffle!
- replies (0)
End of the Road 2016 - hits and misses
- replies (1)
17/9 Walthamstow Festival Indie Alldayer - Free!
- replies (0)
RIP David Bowie
- replies (7)
7/9 LDN Steven James Adams+Papernut Cambridge+Bill Botting
- replies (0)
Sat 6 Aug, London - Shake The Shacklewell IV
- replies (0)
Sounds XP Masters Fantasy league 2016/17
- replies (0)
LDN 20/8 Miracle Legion + Darren Hayman @ Oslo, Hackney
- replies (0)
The Rum Circus




Gabriel

Article written by James A - Jul 8, 2006

It's always dangerous to read press releases prior to listening to demo's as they can put the wrong ideas in your head when influences are mentioned. The Rum Circus mention Scott Walker, Jacques Brel, Polly Jean and The Bad Seeds. For once they aren't a million miles off of the mark, though the songs are slightler poppier and accessible on first listen. Not unlike children's novels of old though the more you look beneath the surface the darker they become, not unlike the work of Nick Cave.

A four piece they are a combination of classically trained guitarist Becca Grover, Serbian drummer Velibor Krstic and bassist Gavin Jay who has previously played with Morrissey and The Soho Dolls. Lead singer Chesca Grover, sometime Boy George collaborator, completes the line up and it is her songwriting that marks this band out from others. Opening track Gabriel is the most immediate and infectious and whilst sugary sweet it's the sort of candy that leads to danger a la Hansel and Gretel. The piano and vocal combination reminds of Black Box Recorder and the content wouldn't sound out of place in a Bad Seeds novel "the bats they drain him while he sleeps, maybe that's why he's so pale and thin". Infectious, it will grow on you each listen.

The other two tracks are less immediate but well worthy of your attention, Cherry covers the theme of the parting of a lover but the quality of the lyrics puts many of their peers to shame. When Klaus Comes is faster and showcases another side to the band, an energetic PJ Harvey springs to mind.

Worthy of your attention, their next gig is at The Water Rats in Kings Cross on Saturday 15th July.