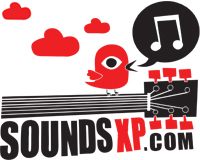 HOME
REVIEWS
albums
singles/downloads
gigs
demos
NEWS
INTERVIEWS
FREE MP3s
STREAMED MUSIC
MUSIC VIDEOS
FORUM
LINKS
ABOUT US
CONTACT US
SEARCH
- RSS Feed
SoundsXP Presents
Next show:

BAD FRIDAY!
Acts tbc

The Windmill, Brixton
Good Friday 2017, 3pm till late



On Our iPod
Latest Forum Posts
Where did everyone go?
- replies (1)
Support a good cause, see some great bands and win stuff!!
- replies (0)
Masonics + Baron Four + Ye Nuns + raffle!
- replies (0)
End of the Road 2016 - hits and misses
- replies (1)
17/9 Walthamstow Festival Indie Alldayer - Free!
- replies (0)
RIP David Bowie
- replies (7)
7/9 LDN Steven James Adams+Papernut Cambridge+Bill Botting
- replies (0)
Sat 6 Aug, London - Shake The Shacklewell IV
- replies (0)
Sounds XP Masters Fantasy league 2016/17
- replies (0)
LDN 20/8 Miracle Legion + Darren Hayman @ Oslo, Hackney
- replies (0)
The Venus Kicks / Captain Kennedy / Superkings / Seeing Scarlet / Pray For Hayden / Golden Time




Demo and self released roundup

Article written by Paul M - Dec 10, 2006

When you need a pick, ropes and climbing boots to get the other side of the demo pile you know something needs to be done. So out go all the ones proclaiming that they are the new Biffy Clyro (why?), Beatles (yeah, right) or Led Zep (you can take that stairway to heaven right now for all I care) and I settle down with a collection that will hopefully avoid being future tea cup coasters. Here goes…

Things are off to a very good start. Deptford's The Venus Kicks have a keen ear for a more than half decent hook and after three extremely melodic tracks, my toes are tapping and my fingers are seeking their myspace page. Indeed with their frothy pop, bubbling percussion and rhythm, I've enjoyed them enough to forgive them the irritation of the faulty CD that sticks intermittently on track 1.


The Captain Kennedy Sweetest Friend EP appears to be self-released and if you're into anthemic bluesy rock then you'll be hard pressed to find much better than this. The husky vocals are superb, evoking Rod Stewart during his Faces days, the musicianship spot on, and while I'm not a fan of too much of this kind of stuff it's a darn sight better than the self-indulgent chuffdrippings that Richard Ashcroft seems to be getting away with post-the Verve.

Superkings from somewhere in the North West have a few interesting ideas, nice orchestral interludes and some of those dark melancholic moments that make gothic balladeers like Nick Cave so arresting, particularly on second track, All Things Considered. Unfortunately the first effort, Good Sense, is an utter mess, the vocals too prominent in the production and the accompaniment untidy.

If Robbie Williams performed rock cabaret (what do you mean he does already?) he'd sound like Seeing Scarlet with Charlie Bealle's melodramatic vocals perfectly suiting the arena filling glam noise his band makes. Not my bag but definitely impressive all the same and one hell of an ambitious production for a demo.

Leeds' four piece The Pray for Hayden's Promo-sexual (huh huh huh) three tracker is an emo rock racket of duelling vocals, beefy guitars and loud drums. With a frontman called, ahem, Ash Wednesday and a bassist called, oh sweet jesus, Mark Mywords, life with them must presumably be an endless procession of whoopee cushions and water squirting lapel flowers. A Kerrang front cover probably beckons but I hated them.

Still at least they had some talent which is something sadly lacking with Golden Time. Apparently they've been honing their musical skills since 2000 and if this is the culmination of their efforts then you can only fear for what they used to sound like. .38 is pish in every imaginable way. Poor vocals, awful lyrics and tired unimaginative plodding riffs and by the time they murder the Roxy Music classic More Than This I've bitten my knuckles till the blood drips down my chin. By this point I really don't want to hear more than this and rip the CD out of the deck and go for a much needed Donald Trump...