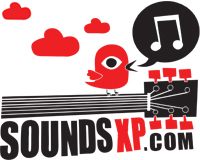 HOME
REVIEWS
albums
singles/downloads
gigs
demos
NEWS
INTERVIEWS
FREE MP3s
STREAMED MUSIC
MUSIC VIDEOS
FORUM
LINKS
ABOUT US
CONTACT US
SEARCH
- RSS Feed
SoundsXP Presents
Next show:

BAD FRIDAY!
Acts tbc

The Windmill, Brixton
Good Friday 2017, 3pm till late



On Our iPod
Latest Forum Posts
Where did everyone go?
- replies (1)
Support a good cause, see some great bands and win stuff!!
- replies (0)
Masonics + Baron Four + Ye Nuns + raffle!
- replies (0)
End of the Road 2016 - hits and misses
- replies (1)
17/9 Walthamstow Festival Indie Alldayer - Free!
- replies (0)
RIP David Bowie
- replies (7)
7/9 LDN Steven James Adams+Papernut Cambridge+Bill Botting
- replies (0)
Sat 6 Aug, London - Shake The Shacklewell IV
- replies (0)
Sounds XP Masters Fantasy league 2016/17
- replies (0)
LDN 20/8 Miracle Legion + Darren Hayman @ Oslo, Hackney
- replies (0)
The White Gospel




Day Beauty EP

Article written by James A - Oct 5, 2005

Starting off with I Do Like To Be Beside The Seaside this quickly falls into MOR pastiche. You get the impression of office based pals with a reasonable degree of competency and too much time on their hands. When they feel like they are soaring they rarely get off the ground; basically good pub music that feels too sanitised for anywhere else. With a voice reminiscent of the Ocean Colour Scene's lead singer the vocals lack any urgency or purpose. With good production this wouldn't sound out of place on a Jon Bon Jovi solo album. These comparisons aren't supposed to sound scything as I get the impression that these are legitimate influences.

Third and final track 'The Longest Word I Know' continues in the same vein but is marginally better with improved vocals and atmospherics. It sounds like a poor idea well executed. A bit of research will probably reveal the band to be younger than I'd assume but if this is a mid-life crisis it beats the ponytail, leather trousers and motorbike.