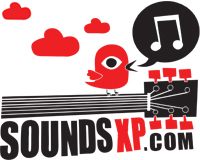 HOME
REVIEWS
albums
singles/downloads
gigs
demos
NEWS
INTERVIEWS
FREE MP3s
STREAMED MUSIC
MUSIC VIDEOS
FORUM
LINKS
ABOUT US
CONTACT US
SEARCH
- RSS Feed
SoundsXP Presents
Next show:

BAD FRIDAY!
Acts tbc

The Windmill, Brixton
Good Friday 2017, 3pm till late



On Our iPod
Latest Forum Posts
Support a good cause, see some great bands and win stuff!!
- replies (0)
Masonics + Baron Four + Ye Nuns + raffle!
- replies (0)
End of the Road 2016 - hits and misses
- replies (1)
17/9 Walthamstow Festival Indie Alldayer - Free!
- replies (0)
RIP David Bowie
- replies (7)
7/9 LDN Steven James Adams+Papernut Cambridge+Bill Botting
- replies (0)
Sat 6 Aug, London - Shake The Shacklewell IV
- replies (0)
Sounds XP Masters Fantasy league 2016/17
- replies (0)
LDN 20/8 Miracle Legion + Darren Hayman @ Oslo, Hackney
- replies (0)
LDN 22/7 Martha + Trust Fund + Neurotic Fiction @ The Dome
- replies (0)
Adam Tedder




It'll be soon/Eastern Girls

Whimsical Records

Article written by Mary B - Feb 1, 2007

Adam Tedder is a London based singer/songwriter who also works as an actor. He also designed the front sleeve artwork for this debut single. These tracks were mastered in no less than Abbey Road Studios, the mecca of the music world: impressive for a debut, download only double-A single. Is he a jack of all trades and a master of none though? 'It'll be soon' will not grab the listener's attention immediately. After a few listens though you might just be rewarded with a beautifully composed song. It's got a subtle and yet effective piano tinkling in the background throughout it accompanied by some beautiful string arrangements. The lyrics, which are obviously based on thoughts about religion/the afterlife, leave you feeling quite sad but in a kind of good way. Adam's vocals are really soothing and this is a 'lie down on your bed and listen' track. You can't stay in a contemplative mood for too long however as 'Eastern girls', the other song on this release, has a totally different vibe and subject matter. It starts out sounding slightly like 'Wuthering Heights' but soon gathers pace and turns into an indie rock track. And where the vocals were gentle in 'It'll be soon', Adam's voice in this song has more attitude, for want of a better word. His vocal performance is varied throughout this track. Mr Tedder states that 'Eastern Girls' is about 'bravely, brutally but not bitterly moving on.' The two singles make for quite an interesting contrast and after several listens to this debut release I think it will be hard for anybody to define his music, based solely on this offering. If Tedder keeps producing this kind of work he may become a master of at least one trade for a selected audience. With downloads being lovingly accepted into the arms of the music charts, he may just find recognition will come soon.