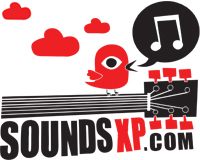 HOME
REVIEWS
albums
singles/downloads
gigs
demos
NEWS
INTERVIEWS
FREE MP3s
STREAMED MUSIC
MUSIC VIDEOS
FORUM
LINKS
ABOUT US
CONTACT US
SEARCH
- RSS Feed
SoundsXP Presents
On Our iPod
Latest Forum Posts
Where is Milchman?
- replies (19)
Sounds XP Pub Crawl 13th March 2014 - LDN
- replies (4)
The Next Soiree
- replies (18)
Spam
- replies (65)
The new telly thread
- replies (10)
New Music Every Day
- replies (1291)
7 Mar Fortuna POP! Alldayer @ The Shacklewell Arms, London
- replies (0)
PLEASE READ
- replies (6)
R.I.P Steve Strange
- replies (1)
Best fictional music acts.
- replies (26)
North Sea Radio Orchestra




The End of Chimes EP

Oof! Records (7")

Article written by Paul M - May 27, 2007

Not one for the hedonistic chuff monkeys giving it large on Es and, er, Js (memo to self do some research on drugs sometime), this is gentle, lush and frankly beguiling English chamber pop folk. The influences listed will not feature in the credits of your average skinny drainpipe clad bandís releases but then most acts donít feature wind instruments or set their music to the poems of Longfellow. Thereís a variety to the four tracks on this EP, from the brow soothing sweetness and lifting harmonies of Chimes to the raggle taggle hey-nonny-nonny of Tides but a common feature is the relaxed, smiling listener. Nice.