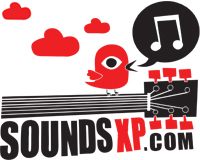 HOME
REVIEWS
albums
singles/downloads
gigs
demos
NEWS
INTERVIEWS
FREE MP3s
STREAMED MUSIC
MUSIC VIDEOS
FORUM
LINKS
ABOUT US
CONTACT US
SEARCH
- RSS Feed
SoundsXP Presents
Next show:

BAD FRIDAY!
Acts tbc

The Windmill, Brixton
Good Friday 2017, 3pm till late



On Our iPod
Latest Forum Posts
Where did everyone go?
- replies (0)
Support a good cause, see some great bands and win stuff!!
- replies (0)
Masonics + Baron Four + Ye Nuns + raffle!
- replies (0)
End of the Road 2016 - hits and misses
- replies (1)
17/9 Walthamstow Festival Indie Alldayer - Free!
- replies (0)
RIP David Bowie
- replies (7)
7/9 LDN Steven James Adams+Papernut Cambridge+Bill Botting
- replies (0)
Sat 6 Aug, London - Shake The Shacklewell IV
- replies (0)
Sounds XP Masters Fantasy league 2016/17
- replies (0)
LDN 20/8 Miracle Legion + Darren Hayman @ Oslo, Hackney
- replies (0)
Astronauts




Four Songs

Lo Recordings download only

Article written by Ged M - Nov 10, 2014

'Four Songs' are four songs that didn't make the team for Astronauts' Hollow Ponds album but which Dan Carney though were still worth airing. And he was right. Nothing stands out quite like the magnificent 'Skydive' but the EP is a great album companion with four different faces. 'Only Son' is Bowie space-pop, with growling guitars and a motorik beat creating a huge pop rush; 'Lion Tamer' is throbbing experimental psych-pop that builds in waves until it dashes itself to destruction; 'Think On (2003)' is folky, introspective and haunting; and the instrumental 'Death From The Stars' is a slow comedown of softly caressed piano and generalised electronic moaning. It's a fine foursome with a distinctively dreamy sound that deserves your attention.