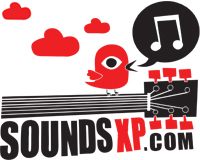 HOME
REVIEWS
albums
singles/downloads
gigs
demos
NEWS
INTERVIEWS
FREE MP3s
STREAMED MUSIC
MUSIC VIDEOS
FORUM
LINKS
ABOUT US
CONTACT US
SEARCH
- RSS Feed
SoundsXP Presents
Next show:

BAD FRIDAY!
Acts tbc

The Windmill, Brixton
Good Friday 2017, 3pm till late



On Our iPod
Latest Forum Posts
Where did everyone go?
- replies (1)
Support a good cause, see some great bands and win stuff!!
- replies (0)
Masonics + Baron Four + Ye Nuns + raffle!
- replies (0)
End of the Road 2016 - hits and misses
- replies (1)
17/9 Walthamstow Festival Indie Alldayer - Free!
- replies (0)
RIP David Bowie
- replies (7)
7/9 LDN Steven James Adams+Papernut Cambridge+Bill Botting
- replies (0)
Sat 6 Aug, London - Shake The Shacklewell IV
- replies (0)
Sounds XP Masters Fantasy league 2016/17
- replies (0)
LDN 20/8 Miracle Legion + Darren Hayman @ Oslo, Hackney
- replies (0)
Bearfoot Beware




Bruises And Business

Mountains of Records

Article written by Ged M - Nov 10, 2014

Nottingham seems to have a fondness for loud complicated rock music that sounds like a Rubik's Cube slotting into place with multiple twisting and much cursing. Nottingham label Mountain of Records has released a single from Leeds rockers Bearfoot Beware that brings together hardcore noise and math-rock. 'Trellum' is full of quirky movements, changing time signatures, punk vocals and such complex rhythms you could plot it on graph paper. 'Fox Boy' shows a love of 90s hardcore and a love of contrast - from fierce metallic shedding one minute to quiet and suppressed power the next. This is high energy, shape-shifting modern guitar rock, though the idiosyncratic arrangements on 'My Love Is A Seagull' makes you wonder where math-rock ends and prog-rock begins.