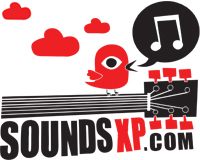 HOME
REVIEWS
albums
singles/downloads
gigs
demos
NEWS
INTERVIEWS
FREE MP3s
STREAMED MUSIC
MUSIC VIDEOS
FORUM
LINKS
ABOUT US
CONTACT US
SEARCH
- RSS Feed
SoundsXP Presents
Next show:

BAD FRIDAY!
Acts tbc

The Windmill, Brixton
Good Friday 2017, 3pm till late



On Our iPod
Latest Forum Posts
Support a good cause, see some great bands and win stuff!!
- replies (0)
Masonics + Baron Four + Ye Nuns + raffle!
- replies (0)
End of the Road 2016 - hits and misses
- replies (1)
17/9 Walthamstow Festival Indie Alldayer - Free!
- replies (0)
RIP David Bowie
- replies (7)
7/9 LDN Steven James Adams+Papernut Cambridge+Bill Botting
- replies (0)
Sat 6 Aug, London - Shake The Shacklewell IV
- replies (0)
Sounds XP Masters Fantasy league 2016/17
- replies (0)
LDN 20/8 Miracle Legion + Darren Hayman @ Oslo, Hackney
- replies (0)
LDN 22/7 Martha + Trust Fund + Neurotic Fiction @ The Dome
- replies (0)
Bec and Beth




Bec and Beth EP

Purr Records 7"

Article written by Ged M - Aug 2, 2008

'Bec and Beth' sounds like a schoolbook graffito or a best friends' declaration scraped into the top of a school desk. The "best friends" part is certainly right; this is Becky Wood (neé Newman) and Beth Gibson from The Hot Puppies, using time off from touring to work together on an EP of minimalist soul-baring torch songs, in this case three covers and one original. Just as the Hot Puppies have moved away from indiepop, Bec and Beth are exploring their own eclectic influences.

Becky Wood could always sing: we know that from the Hot Puppies, but 'Anyone Who Had a Heart' shows that she has the English rose of voices, delicate but ultra-strong. Beth's piano backing is stripped back and skeletal, the better to reveal the pulsing, bruised heart at the centre of the song. "Achingly pretty" is the only way to describe their version of the Smiths' 'Last Night I Dreamt That Somebody Loved Me' while their self-penned 'French Song' splices romance and heartbreak. They round off their record with a cover of 'I'm Making Believe' from the 1944 film Sweet and Low-Down, sung with a fervent longing that evokes the vocal groups of the 40s and 50s (or a Dennis Potter soundtrack). It's a record full of blushing charm and with all the thrill of the unrequited crush, the voices so good they'd shine in the company of much lauded divas like Duffy and Adele.