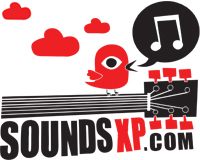 HOME
REVIEWS
albums
singles/downloads
gigs
demos
NEWS
INTERVIEWS
FREE MP3s
STREAMED MUSIC
MUSIC VIDEOS
FORUM
LINKS
ABOUT US
CONTACT US
SEARCH
- RSS Feed
SoundsXP Presents
Next show:

BAD FRIDAY!
Acts tbc

The Windmill, Brixton
Good Friday 2017, 3pm till late



On Our iPod
Latest Forum Posts
Where did everyone go?
- replies (0)
Support a good cause, see some great bands and win stuff!!
- replies (0)
Masonics + Baron Four + Ye Nuns + raffle!
- replies (0)
End of the Road 2016 - hits and misses
- replies (1)
17/9 Walthamstow Festival Indie Alldayer - Free!
- replies (0)
RIP David Bowie
- replies (7)
7/9 LDN Steven James Adams+Papernut Cambridge+Bill Botting
- replies (0)
Sat 6 Aug, London - Shake The Shacklewell IV
- replies (0)
Sounds XP Masters Fantasy league 2016/17
- replies (0)
LDN 20/8 Miracle Legion + Darren Hayman @ Oslo, Hackney
- replies (0)
Deers




Barn

Lucky Number Records 7"

Article written by Ged M - Dec 31, 2014

Just catching up on singles we failed to review and here's one from November well worth hearing for those who like the Vivian Girls and Crystal Stilts. Madrid's Deers play lo-fi garage-rock whose lack of production sheen is more than balanced by the gusto with which they play. 'Castigas En El Granero' (loosely translated as "Grounded In The Barn") is scratchy, sassy, joyful garage-rock while 'Between Cans' is a strummy take on the Velvet Underground, with half-howled vocals that could have been recorded after a night of drinking. This has a simple charm that's quite addictive and bodes well for them in 2015.