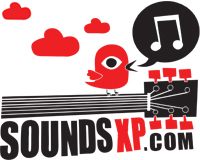 HOME
REVIEWS
albums
singles/downloads
gigs
demos
NEWS
INTERVIEWS
FREE MP3s
STREAMED MUSIC
MUSIC VIDEOS
FORUM
LINKS
ABOUT US
CONTACT US
SEARCH
- RSS Feed
SoundsXP Presents
Next show:

BAD FRIDAY!
Acts tbc

The Windmill, Brixton
Good Friday 2017, 3pm till late



On Our iPod
Latest Forum Posts
Where did everyone go?
- replies (0)
Support a good cause, see some great bands and win stuff!!
- replies (0)
Masonics + Baron Four + Ye Nuns + raffle!
- replies (0)
End of the Road 2016 - hits and misses
- replies (1)
17/9 Walthamstow Festival Indie Alldayer - Free!
- replies (0)
RIP David Bowie
- replies (7)
7/9 LDN Steven James Adams+Papernut Cambridge+Bill Botting
- replies (0)
Sat 6 Aug, London - Shake The Shacklewell IV
- replies (0)
Sounds XP Masters Fantasy league 2016/17
- replies (0)
LDN 20/8 Miracle Legion + Darren Hayman @ Oslo, Hackney
- replies (0)
Emma Kupa




Home Cinema

WIAIWYA

Article written by Matt H - Feb 23, 2015

When Standard Fare called it a day, our tears were stemmed by a certainty that the music would keep coming in another guise. And after dabbling in a few collaborations Emma Kupa has come up with lovely solo EP, much of which takes her family as inspiration.

Yeah, some of the wide-eyed vim of Standard Fare is gone. But that's tempered by the knowledge that Kupa's straightforwardly honest and insightful approach to documenting the unspectacular but vital trials and tribulations of life was always going to be best served by the sort of folky/country tunefulness she's turned to here. There's warmth and understanding abounding beneath the frustration and uncertainty. And that terrific, idiosyncratic voice will always lift anything that she does above the ordinary, lending a wonderfully weary air to even the faster paced of the six songs (and somehow every so often calls to mind Dan Michaelson's glorious yawns).

Sometimes the thing you fear most for an artist is that they will grow up. But there was always a gentle wisdom in Emma Kupa's songs which is only magnified here. So there's nothing to worry about, she's just finding her stride.



Oh, and there's a launch gig at the Lexington on 19 March. Be there London-types.