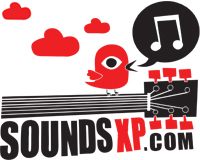 HOME
REVIEWS
albums
singles/downloads
gigs
demos
NEWS
INTERVIEWS
FREE MP3s
STREAMED MUSIC
MUSIC VIDEOS
FORUM
LINKS
ABOUT US
CONTACT US
SEARCH
- RSS Feed
SoundsXP Presents
Next show:

BAD FRIDAY!
Acts tbc

The Windmill, Brixton
Good Friday 2017, 3pm till late



On Our iPod
Latest Forum Posts
Where did everyone go?
- replies (0)
Support a good cause, see some great bands and win stuff!!
- replies (0)
Masonics + Baron Four + Ye Nuns + raffle!
- replies (0)
End of the Road 2016 - hits and misses
- replies (1)
17/9 Walthamstow Festival Indie Alldayer - Free!
- replies (0)
RIP David Bowie
- replies (7)
7/9 LDN Steven James Adams+Papernut Cambridge+Bill Botting
- replies (0)
Sat 6 Aug, London - Shake The Shacklewell IV
- replies (0)
Sounds XP Masters Fantasy league 2016/17
- replies (0)
LDN 20/8 Miracle Legion + Darren Hayman @ Oslo, Hackney
- replies (0)
Gulp




Game Love

Sonic Cathedral

Article written by Kev W - Dec 28, 2014

It may have been this year that Gulp released their debut album, but Super Furry Animals man Guto Price and vocalist Lindsey Leven have been making music under this guise for a few years. It was the summer of 2012 that saw the release of their debut single 'Game Love', a song that was somewhat overlooked at the time. Given the extra promotion that comes with an LP which gets smothered by glowing reviews, it's a wise choice to spread the word of this magical highlight a little further and put the track out there again.

Essentially, 'Game Love' is what it sounds like to be gently floating through space (possibly, I haven't been myself). A basic, ticking motorik beat slowly introduces us to the mild hum of electronics and vocals woozy enough to drive Liz Fraser to jealousy. A bobbing bassline reminiscent of early Spiritualized is another splendid touch as real drums enter the fray and add even more depth to the intricacy. It's customary to begin a new year with resolutions and dreams of doing little things to improve your life, and in 'Game Love' Gulp have delivered the soundtrack to the very best of dreams.