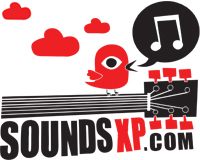 HOME
REVIEWS
albums
singles/downloads
gigs
demos
NEWS
INTERVIEWS
FREE MP3s
STREAMED MUSIC
MUSIC VIDEOS
FORUM
LINKS
ABOUT US
CONTACT US
SEARCH
- RSS Feed
SoundsXP Presents
Next show:

BAD FRIDAY!
Acts tbc

The Windmill, Brixton
Good Friday 2017, 3pm till late



On Our iPod
Latest Forum Posts
Where did everyone go?
- replies (1)
Support a good cause, see some great bands and win stuff!!
- replies (0)
Masonics + Baron Four + Ye Nuns + raffle!
- replies (0)
End of the Road 2016 - hits and misses
- replies (1)
17/9 Walthamstow Festival Indie Alldayer - Free!
- replies (0)
RIP David Bowie
- replies (7)
7/9 LDN Steven James Adams+Papernut Cambridge+Bill Botting
- replies (0)
Sat 6 Aug, London - Shake The Shacklewell IV
- replies (0)
Sounds XP Masters Fantasy league 2016/17
- replies (0)
LDN 20/8 Miracle Legion + Darren Hayman @ Oslo, Hackney
- replies (0)
Hanging Stars




Golden Vanity

Great Pop Supplement 7"

Article written by Ged M - May 8, 2015

The band are from North London, and the present day, but I could easily convince you that they're a group from Nashville in the late 60s who got turned on and then dropped out in California. The evidence is all on the vinyl: channelling Gram Parsons' concept of Cosmic American Music, 'Golden Vanity' is harmonic and blissed-out psych-pop that shimmers and pulses while 'Floodbound' has more chilled country tones courtesy of Horse's moaning pedal steel. You might recognise members of the See See and Coastguards within the ranks of this group but Hanging Stars are trippier that their parent bands – or more "cosmicious", as they describe themselves on Facebook. A brilliant debut for fans of melted country and acid psych.