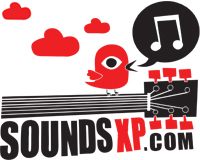 HOME
REVIEWS
albums
singles/downloads
gigs
demos
NEWS
INTERVIEWS
FREE MP3s
STREAMED MUSIC
MUSIC VIDEOS
FORUM
LINKS
ABOUT US
CONTACT US
SEARCH
- RSS Feed
SoundsXP Presents
Next show:

BAD FRIDAY!
Acts tbc

The Windmill, Brixton
Good Friday 2017, 3pm till late



On Our iPod
Latest Forum Posts
Support a good cause, see some great bands and win stuff!!
- replies (0)
Masonics + Baron Four + Ye Nuns + raffle!
- replies (0)
End of the Road 2016 - hits and misses
- replies (1)
17/9 Walthamstow Festival Indie Alldayer - Free!
- replies (0)
RIP David Bowie
- replies (7)
7/9 LDN Steven James Adams+Papernut Cambridge+Bill Botting
- replies (0)
Sat 6 Aug, London - Shake The Shacklewell IV
- replies (0)
Sounds XP Masters Fantasy league 2016/17
- replies (0)
LDN 20/8 Miracle Legion + Darren Hayman @ Oslo, Hackney
- replies (0)
LDN 22/7 Martha + Trust Fund + Neurotic Fiction @ The Dome
- replies (0)
Knickers




My Baby's Just A Baby 7" EP

Elefant Records

Article written by Paul M - May 27, 2012

Back in the noughties The Loves were a welcome feature on the Cardiff and London toilet venue circuits for a while with their psych/bubblegum pop proudly stomping down the fine line between rubbish and genius. They were always highly entertaining and fun, particularly live, and it was a sad, if not unexpected, night indeed when they spat out their Bazooka Joe for the last time at a farewell gig on Valentines Day 2011. Well the good news is their wisecracking svengali-like frontman Simon has a new band and based on the four tracks here they could be even better. Simon's knack for a catchy melody remains but with Sarah's delicious vocals taking a prominent role, there's a definite smoothing of the edges, to reveal Knickers to be a more feminine outfit.

Opener My Baby's Just a Baby (But I Love Him So) is the most Loves-like effort on offer with its cheesy take on sleazy garage but the other three are wonderful too. Are You Ready Girl? is an excellent but obscure Dave Davies (of the Kinks) number that is given a tender treatment with Sarah's delicate warble while A Thousand Ways is strident Belle and Sebastian-esq brass and percussion led pop. Meanwhile closer Darling is cheery 60s girlpop with handclaps and chimes. All in all, four reasons why you need to get the 7" out and into Knickers.

You can listen to the four tracks at the Elephant site here.