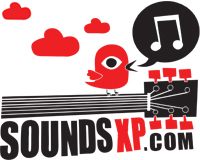 HOME
REVIEWS
albums
singles/downloads
gigs
demos
NEWS
INTERVIEWS
FREE MP3s
STREAMED MUSIC
MUSIC VIDEOS
FORUM
LINKS
ABOUT US
CONTACT US
SEARCH
- RSS Feed
SoundsXP Presents
Next show:

BAD FRIDAY!
Acts tbc

The Windmill, Brixton
Good Friday 2017, 3pm till late



On Our iPod
Latest Forum Posts
Where did everyone go?
- replies (0)
Support a good cause, see some great bands and win stuff!!
- replies (0)
Masonics + Baron Four + Ye Nuns + raffle!
- replies (0)
End of the Road 2016 - hits and misses
- replies (1)
17/9 Walthamstow Festival Indie Alldayer - Free!
- replies (0)
RIP David Bowie
- replies (7)
7/9 LDN Steven James Adams+Papernut Cambridge+Bill Botting
- replies (0)
Sat 6 Aug, London - Shake The Shacklewell IV
- replies (0)
Sounds XP Masters Fantasy league 2016/17
- replies (0)
LDN 20/8 Miracle Legion + Darren Hayman @ Oslo, Hackney
- replies (0)
Pete Astor




Mr Music

Fortuna Pop! Records

Article written by Ged M - Jul 12, 2015

This is almost a masterclass in songwriting from an artist who now lectures on music at university. Recorded simply with James Hoare of Veronica Falls, Pete Astor's 'Mr Music' is seductively slow with a fine lo-fi swagger. Describing an artist in thrall to his muse ("poor Mr Music, when will he let it go?") he constructs meaningful lyrics alongside compelling melodies. The B-side 'Armitage Sharks' is even softer, a desperate and romantic tale that comprises few instruments but sounds as full as it needs to be. Pete Astor is an elder statesman of indie but his experience and wisdom continue to make him as relevant now as when he started in the 80s.