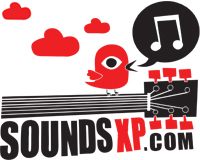 HOME
REVIEWS
albums
singles/downloads
gigs
demos
NEWS
INTERVIEWS
FREE MP3s
STREAMED MUSIC
MUSIC VIDEOS
FORUM
LINKS
ABOUT US
CONTACT US
SEARCH
- RSS Feed
SoundsXP Presents
Next show:

BAD FRIDAY!
Acts tbc

The Windmill, Brixton
Good Friday 2017, 3pm till late



On Our iPod
Latest Forum Posts
Where did everyone go?
- replies (0)
Support a good cause, see some great bands and win stuff!!
- replies (0)
Masonics + Baron Four + Ye Nuns + raffle!
- replies (0)
End of the Road 2016 - hits and misses
- replies (1)
17/9 Walthamstow Festival Indie Alldayer - Free!
- replies (0)
RIP David Bowie
- replies (7)
7/9 LDN Steven James Adams+Papernut Cambridge+Bill Botting
- replies (0)
Sat 6 Aug, London - Shake The Shacklewell IV
- replies (0)
Sounds XP Masters Fantasy league 2016/17
- replies (0)
LDN 20/8 Miracle Legion + Darren Hayman @ Oslo, Hackney
- replies (0)
Sheepy




Wild EP

Blang

Article written by Kev W - Jun 19, 2015

On Sheepy's debut album we were gifted a truly splendid set of powerpop tunes interspersed with a few surpirises such as single 'Glum' which recalled certain Kinks tracks. The title-track to 'The Wild EP' is in a similar vein and has a familiar melody, as songwriter Luke Jones goes stalking around Liverpool. It's another well written tune; something we've come to expect. Then there's a change of direction as Sheepy slip into the more upbeat, almost ska-like territory of the mildly psychedelic and slightly punky 'Sressmongers' which is possibly better than the lead song. It's more like an intimidating ghost town rather than the eerie one that The Specials wrote about. If you skip to final track, 'Ghost Train', then all of your eerie needs will be met with a disconcerting and otherworldly waltz which shows not just versatility but that Sheepy's comfort zone is quite a large one.

The press release for the EP boldly states of 3rd track 'Jeremiah Horrocks' that "any other band in the country would have released this as an A-side". They're not lying, and is does beg the question of why this song isn't the focal point. It's only the likes of Super Furry Animals who'd write a track about the Toxteth astronomer and his discovery of the lunar transits of Venus, and few would do so with ska-punk verses and a hugely infectious chorus that could be the work of the Welsh wizards at their poppiest. It's the most instant and contagious of these four songs, but that's not to dismiss the rest. Sheepy don't really do medicore; 'Wild' is another roaring success.