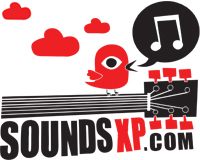 HOME
REVIEWS
albums
singles/downloads
gigs
demos
NEWS
INTERVIEWS
FREE MP3s
STREAMED MUSIC
MUSIC VIDEOS
FORUM
LINKS
ABOUT US
CONTACT US
SEARCH
- RSS Feed
SoundsXP Presents
Next show:

BAD FRIDAY!
Acts tbc

The Windmill, Brixton
Good Friday 2017, 3pm till late



On Our iPod
Latest Forum Posts
Where did everyone go?
- replies (0)
Support a good cause, see some great bands and win stuff!!
- replies (0)
Masonics + Baron Four + Ye Nuns + raffle!
- replies (0)
End of the Road 2016 - hits and misses
- replies (1)
17/9 Walthamstow Festival Indie Alldayer - Free!
- replies (0)
RIP David Bowie
- replies (7)
7/9 LDN Steven James Adams+Papernut Cambridge+Bill Botting
- replies (0)
Sat 6 Aug, London - Shake The Shacklewell IV
- replies (0)
Sounds XP Masters Fantasy league 2016/17
- replies (0)
LDN 20/8 Miracle Legion + Darren Hayman @ Oslo, Hackney
- replies (0)
Simon Love




The New Adam And Eve

Fortuna Pop! Records 7"

Article written by Ged M - Sep 23, 2015

Simon Love's pottymouthed pop is just the tourettes-ticket to compensate for our rotten excuse for a summer. 'The New Adam and Eve' is guaranteed sunshine in a seven inch single, 60s- influenced string driven pop that balances misanthropy with a welcome dollop of humour. Flip it over for Simon's cover of Noel Gallagher's 'Married...With Children', which was rightly consigned to the very end of Definitely Maybe and is here played in a tongue in cheek style partly borrowed from the theme to Grange Hill. The "Roogalator" call (hopefully an homage to the great 70s pub rockers) is just an extra detail of genius. This is the spirit of Harry Nilsson reincarnated as a tuneful jester from Cardiff.