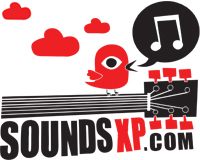 HOME
REVIEWS
albums
singles/downloads
gigs
demos
NEWS
INTERVIEWS
FREE MP3s
STREAMED MUSIC
MUSIC VIDEOS
FORUM
LINKS
ABOUT US
CONTACT US
SEARCH
- RSS Feed
SoundsXP Presents
Next show:

BAD FRIDAY!
Acts tbc

The Windmill, Brixton
Good Friday 2017, 3pm till late



On Our iPod
Latest Forum Posts
Where did everyone go?
- replies (0)
Support a good cause, see some great bands and win stuff!!
- replies (0)
Masonics + Baron Four + Ye Nuns + raffle!
- replies (0)
End of the Road 2016 - hits and misses
- replies (1)
17/9 Walthamstow Festival Indie Alldayer - Free!
- replies (0)
RIP David Bowie
- replies (7)
7/9 LDN Steven James Adams+Papernut Cambridge+Bill Botting
- replies (0)
Sat 6 Aug, London - Shake The Shacklewell IV
- replies (0)
Sounds XP Masters Fantasy league 2016/17
- replies (0)
LDN 20/8 Miracle Legion + Darren Hayman @ Oslo, Hackney
- replies (0)
The Horses of Instruction




Tree People EP

self-released

Article written by Ged M - Nov 4, 2014

To be sure, there are "tree people" in the Horses of Instruction: James Agnew (drums, vocals), John Waring (guitar, vocals) and Martin Hall (bass). They're a guitar-y post-punk band, unless they're playing synths, which they had to do when John Waring broke his guitar-playing fingers and had to resort to stabbing a keyboard. So 'Indiana Jonesing' (about "trying to be more interesting than you actually are") is like Led Zeppelin in their heavy folk phase, but only if Zep had embraced synths and slowed down to play them. The Horses have their guitar hero moments – 'The Pinewood House' has a big old engine throbbing under the bonnet – but the most satisfying songs bookend the EP. 'Tree People' is bright and lively Postcard-era post-punk with a booming chorus while 'Trouble At The Garden Centre' is insanely addictive (and who couldn't love a band who rhyme "garden centre" with "foul temper"). Its mental title and scattergun rhythms comes across like early Elvis Costello meets the Feelies but it also conceals a warning about raking over the past. A cleverly crafted 15 minutes of throwaway but strangely profound pop.