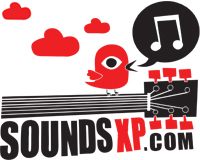 HOME
REVIEWS
albums
singles/downloads
gigs
demos
NEWS
INTERVIEWS
FREE MP3s
STREAMED MUSIC
MUSIC VIDEOS
FORUM
LINKS
ABOUT US
CONTACT US
SEARCH
- RSS Feed
SoundsXP Presents
Next show:

BAD FRIDAY!
Acts tbc

The Windmill, Brixton
Good Friday 2017, 3pm till late



On Our iPod
Latest Forum Posts
Where did everyone go?
- replies (0)
Support a good cause, see some great bands and win stuff!!
- replies (0)
Masonics + Baron Four + Ye Nuns + raffle!
- replies (0)
End of the Road 2016 - hits and misses
- replies (1)
17/9 Walthamstow Festival Indie Alldayer - Free!
- replies (0)
RIP David Bowie
- replies (7)
7/9 LDN Steven James Adams+Papernut Cambridge+Bill Botting
- replies (0)
Sat 6 Aug, London - Shake The Shacklewell IV
- replies (0)
Sounds XP Masters Fantasy league 2016/17
- replies (0)
LDN 20/8 Miracle Legion + Darren Hayman @ Oslo, Hackney
- replies (0)
Let's Be Clear About Sleaford Mods Documentary




Article written by Kev W - Jan 29, 2015

Following an interview with Sleaford Mods by filmmaker Nathan Hannawin and music writer Paul Sng, who met the band in Brighton last year, the pair came up with the idea to make a documentary about how 2014's SoundsXP album of the year winners were planning to gig in untrendy places that other groups neglect, and also how this kind of neglect is common in modern Britain. Impressed by just how important the duo were to their fans, they've decided to crowd fund the project - with the blessing and cooperation of Sleaford Mods - through Indiegogo. Titled 'Sleaford Mods: Invisible Britain', the film will follow the band on their upcoming tour.

"We want your input

If you're a Sleaford Mods fan interested in appearing in the film and will be attending any of the gigs listed below, we would like to hear from you. Please contact Nathan & Paul via velvetjoyltd@gmail.com (we also hope to film at gigs later in the tour, depending on how much funding we raise).

February
26 – Stoke on Trent
27 – Northampton
28 – Barnsley
March
2 – Wakefield
3 – Liverpool
4 – Stockton-on-Tees
5 – York
6 – Scunthorpe
10 – Cardiff
11 – Oxford
12 – Southampton
13 – Colchester
14 – Milton Keynes

About the film

The proposed film Sleaford Mods: Invisible Britain – part band doc, part look at the state of the nation – will follow Sleaford Mods on their upcoming tour around the parts of the UK where other bands fear to tread. Not for them a slick upgrade to the fashionable indie hotspots simply because their album Divide and Exit was in the top ten lists of every other year-end round-up. Instead, the Nottingham duo will be visiting towns and cities that don't even exist in the minds of anyone south of Barnet… the neglected, broken down and boarded up parts of the UK that most would prefer to ignore.

What better time to plunge into these hinterlands than on the eve of a divisive election, and in the company of a band who've got everything to play for, and who give voice to the pent up rage and the hopeless, helpless frustration of a country on the brink.

Taking its cue from the likes of Patrick Keiller's extraordinary Robinson Trilogy, the psycho-geography of Iain Sinclair, Mark Steel's in Town radio programme, and J.G.Ballard's comment "Feel alive, drive around the M25!", the documentary will be a combination of raw footage of the band, interviews with the band's fans, and scenes in and around the green and pleasant lands that have sunk into the quagmire. Sleaford Mods: Invisible Britain aims to tell the story of how the most relevant British band in years stuck two fingers up to the zeitgeist and gave voice to growing anger at ineffectual politicians and their neglect of the institutions which underpin civilised society."